Abstract
Background
CD99 is a cell surface transmembrane glycoprotein expressed in various tissues. CD99 is differentially expressed between subpopulations of each tissue and is highly expressed in certain hematopoietic and precursor cells. However, there has been no comprehensive study of CD99 expression in normal skin. We evaluated CD99 expression in normal human skin and developing fetal skin.
Methods
Seventy-five adult skin samples containing normal skin and eight fetal skin samples of different gestational ages were collected. CD99 immunohistochemical staining was performed to evaluate expression pattern in adult and fetal skin samples. CD99 and CD34 expression were compared by double immunofluorescence.
Results
In normal adult skin, CD99 was strongly expressed in the membrane of epidermal basal keratinocytes, hair follicle bulges and outer root sheaths, and inner secretory cells of eccrine sweat glands. In fetal skin, CD99 was not expressed on the periderm at 16 weeks of gestation but was expressed in basal cells of fetal skin at around 19 weeks of gestation. CD99 expression became comparable to that of the adult skin after 20 weeks of gestation. CD99 and CD34 were co-expressed in hair follicle outer root sheaths, as seen by double immunofluorescence study.
Conclusions
This is the first study examining CD99 expression pattern in normal adult and fetal skin. CD99 tends to be expressed in the basal/precursor cells of epidermis and in hair follicles. These results provide a basis for future investigation on functions of CD99 in the skin and provide a novel potential target for the treatment of dermatologic lesions.
Keywords: CD99 protein; Skin; Immunohistochemistry
CD99 is a 32-kD type I transmembrane glycoprotein encoded by the CD99 gene and its expression has been reported in many cell types, such as hematopoietic cells, endothelial cells, central nervous system ependymal cells, thymocytes, granular cells of the ovary, Sertoli cells, and pancreatic islet cells [1-3]. CD99 expression is seen in all leukocyte lineages but is differentially expressed with maturation and is particularly strong in immature thymic T-lineage cells [2]. Other studies also demonstrated high CD99 expression in tonsillar lymphoid progenitor cells [4] and in the subventricular zone of fetal brain (C.-S. Park, unpublished data), suggesting that CD99 may play important roles in these precursor cells. The functions of CD99 in cells in which CD99 was highly expressed have been studied and they were as follows: cell death of thymocytes and T lymphocytes [5,6], migration through monocyte endothelial junctions by adhesion and diapedesis [7], cell-cell adhesion in lymphocytes [5,8], maintenance of cellular morphology in Hodgkin and Reed/Sternberg cells [9], and recruitment of T cells to inflamed mouse skin [10]. Pathologically, CD99 is strongly expressed in various tumors including Ewing sarcoma/peripheral neuroectodermal tumors, T-lymphoblastic lymphoma, and others [11]. CD99 is a crucial marker for the diagnosis of these tumors.
Skin is the largest human organ and is structurally composed of epidermis, dermis, and appendages including hair follicles, sebaceous glands, and sweat glands (eccrine and apocrine). Microscopically, cells which composing the skin showed various stages of differentiation. The epidermis contains multiple layers of stratified keratinocytes, and basally located cells are morphologically undifferentiated. Hair follicles are cylindrical invaginations of surface epithelium, and are composed of the innermost hair shaft, the inner root sheath (IRS), and the outer root sheath (ORS). The bulge, the insertion site of the arrector pilli muscle, is the prominent epithelial protuberance of the ORS and it contains basaloid cells [12]. Sebaceous glands have central acini, masses of rounded cells that are packed with lipid-filled vacuoles and peripheral undifferentiated basal cells. Eccrine sweat glands consist of a secretory portion lined with stratified cuboidal cells and an excretory portion lined with two layers of smaller cuboidal cells. Apocrine glands are large glands and secretory cells usually show cuboidal morphology with eosinophilic cytoplasm [13].
CD99 expression levels differ in specific subpopulations according to cellular maturation. We identified strong CD99 expression in the basally located precursor cells of normal epidermis. We inferred that CD99 shows differential expression between the epidermis and appendageal subpopulations with maturation. No systemic evaluation of CD99 expression in normal skin or the appendages has yet been published. The aim of the present study was to evaluate CD99 expression patterns in normal adult epidermis and appendages by immunohistochemistry (IHC) and to ascertain CD99 expression in normal fetal skin during different gestational ages. We also investigated whether morphologically immature subpopulations that express CD99 correlate with skin precursor cells based on previously established marker.
Acknowledgments
This work was supported by the National Research Foundation of Korea, Grant No. 2008-0062286 (http://www.nrf.re.kr/) and the Asan Institute for Life Sciences, Grant No. 2012-527 (http://en.ails.amc.seoul.kr/).
Fig. 1.
CD99 expression in normal adult epidermis and hair follicles. (A) Overall CD99 expression pattern in normal adult skin. (B) Basal cells of the epidermis show strong immunopositivity for CD99. Epidermal Langerhans cells are also strongly immunopositive for CD99 (arrow). (C) Basaloid cells in the bulge, the insertion of the arrector pili muscle, show high CD99 expression. (D) In a terminal anagen hair follicle, the outer root sheath cells are strongly positive for CD99 stain. The inner root sheath cells are weakly positive for CD99 stain. O, outer root sheath; I, inner root sheath.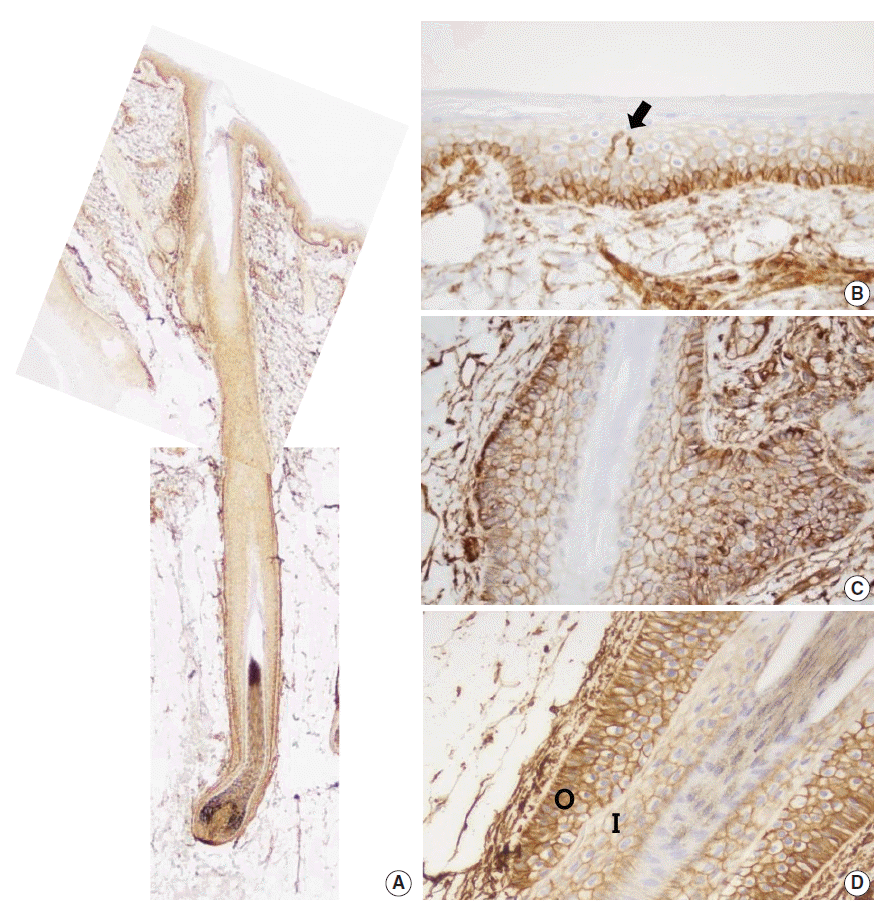 Fig. 2.
CD99 expression in the normal adult sweat glands and sebaceous glands. (A) In apocrine glands, flattened lining cells are immunonegative for CD99 (left). Meanwhile, tall cells in apocrine glands express CD99 (right). (B) Inner small cells of eccrine glands express CD99 in opposition to outer large cells (arrow). Apicoluminal surface of the eccrine glands are immunonegative for CD99. (C) Two layers of excretory ductal cells are immunopositive for CD99. (D) In sebaceous glands, outer basal cells express CD99. However, mature sebocytes do not express CD99.
Fig. 3.
CD99 expression pattern during normal development of the hair follicles. (A) At 16 weeks of gestation, only mesenchymal cells around the hair germ express CD99 (arrow). (B) CD99 positive epidermal basal cells appear at 19 weeks of gestation. Basaloid cells in the bulge and basal cells of the outer root sheath and lower inner root sheath also express CD99. (C, D) CD99 expression pattern is identical to that of adult skins at 20 and 25 weeks of gestation.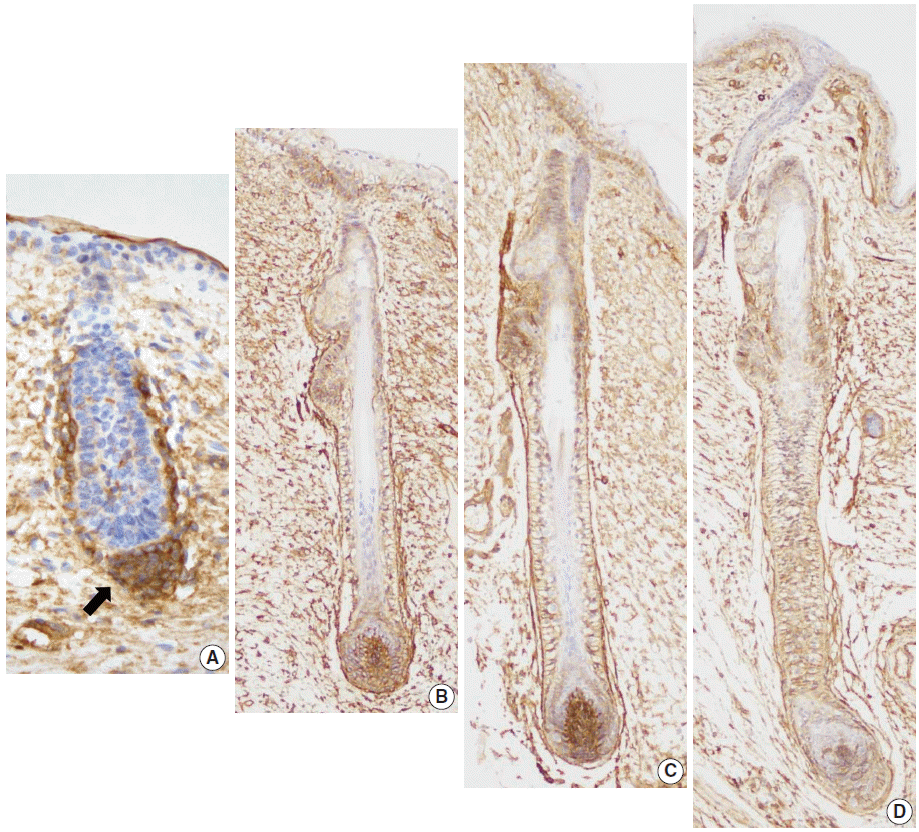 Fig. 4.
CD99 and CD34 expression pattern by double-immunofluorescence staining in normal adult epidermis and hair follicles. (A) Overall expression pattern of CD99 (red) and CD34 (green). Epidermal basal cells (arrowhead) (B) and basaloid cells (C) in the bulge only express CD99 but not CD34. (D) Some cells in the lower outer root sheath show co-expression of CD99 and CD34 (arrow) (horizontal section).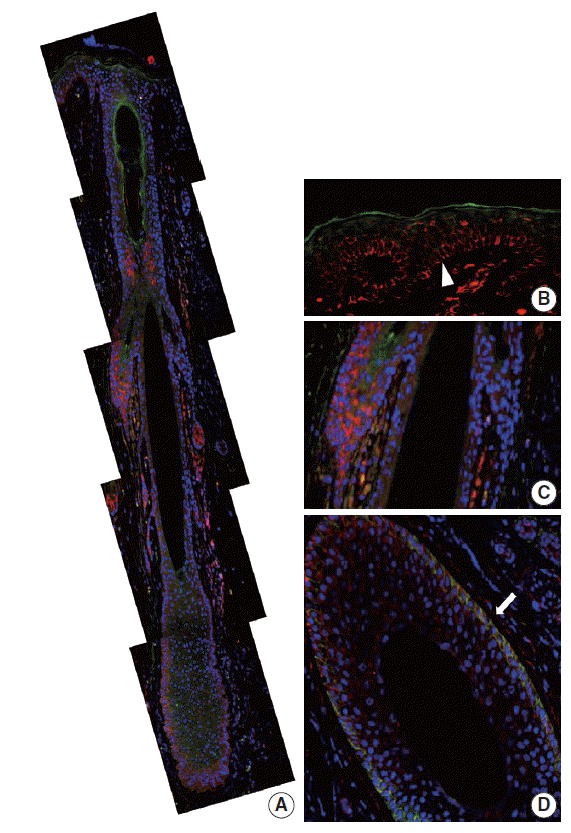 Fig. 5.
CD99 and CD34 expression pattern by double-immunofluorescence staining in the fetal epidermis and hair follicles at 20 weeks of gestation. (A) Overall expression pattern of CD99 (red) and CD34 (green). Dermal papilla expresses both CD99 (red) and CD34 (green) (arrow). (B, C) Epidermal basal cells and basaloid cells in the bulge (arrowhead) express only CD99.
Table 1.
Summary of CD99 expression in normal adult epidermis and skin appendages
| | | Immunoreactivity |
| --- | --- | --- |
| Epidermis | Basal cells | ++ |
| | Prickle cells | + |
| | Granular cells | – |
| | Horny cells (cornified cells) | – |
| Hair follicle | Bulge | ++ |
| | Cortex | – |
| | Cuticle | – |
| | Inner root sheath–lower | + |
| | Outer root sheath | ++ |
| | Glassy membrane | – |
| Sweat glands | | |
| Eccrine secretory coil | Inner dark cells | ++a |
| | Outer clear cells | – |
| Apocrine secretory acinus | Secretory cells | +/–a |
| Excretory duct | Inner layer cells | +a |
| | Outer layer cells | ++ |
| Sebaceous glands | Mature sebocytes | – |
| | Basal cells | ++ |