Abstract
Background
Extremely well-differentiated adenocarcinoma (EWDA) is a deceptively bland-looking adenocarcinoma of the stomach. It often causes diagnostic problems, especially in endoscopic biopsy samples. To better recognize this deceptively bland lesion, we carefully reviewed a series of EWDAs treated at our institution.
Methods
A total of 55 specimens from 19 patients were obtained. Endoscopic, gross and microscopic features defining EWDA were described and documented. For comparison, hyperplastic polyp specimens were randomly selected and analyzed.
Results
Most cases (18 of 19, 94.7%) were advanced gastric cancer (AGC) and primarily located in the body of the stomach (15 of 19, 79.0%). The majority of AGCs were non-ulcerated (11 of 18, 61.1%) with an undermining growth pattern and a relatively small mucosal involvement. Specific histologic features included an irregular glandular shape, an undulating apical cytoplasmic border, disproportionately large glands, a variably distended mucinous cytoplasm. Classical features, such as small infiltrating glands or desmoplastic reactions, were barely observed. Identification of irregularly spaced nuclei and disruption of the foveolar epithelial structure, along with atypical features described above were helpful in making a diagnosis especially in gastric forceps biopsies.
Conclusions
Awareness of the histomorphologic characteristics described in this report would lead to timely diagnosis and prevent repeated endoscopic procedures.
Keywords: Stomach neoplasms; Adenocarcinoma; Missed diagnosis
Extremely well-differentiated adenocarcinoma (EWDA) of the stomach is a rare and an understudied neoplasm the diagnosis of which is especially challenging due to bland nuclear features and subtle architectural atypia. Intestinal- and gastric-type EWDAs are its subgroups, mimicking intestinal metaplasia and normal foveolar epithelium, respectively. Intestinal-type EWDAs consist of intestinal-type glands with various amounts of goblet and Paneth cells [1]. Gastric-type EWDAs are described as mucin-rich columnar cells with basally located, bland-looking nuclei mimicking hyperplastic foveolar epithelium or dilated pyloric glands [2].
Due to its deceptively bland morphology, misinterpretations of EWDA in gastric forceps biopsy are fairly common [2]. However, not many reports discuss its diagnostic histomorphology comprehensively. Therefore, we tried to extract applicable gross, histomorphologic features recurring in 19 EWDAs from our institution assuming that EWDAs exhibit several indicative histological and growth patterns applicable in diagnostic approaches.
Supplementary Information
The Data Supplement is available with this article at https://doi.org/10.4132/jptm.2021.10.12.
Fig. 1
Representative photomicrographs of extremely well-differentiated adenocarcinoma (EWDA). (A) Intestinal-type EWDA featuring goblet cells is observed in case No. 12. (B) Irregularly shaped glands (arrows) opposed to normal foveolar glands (arrowheads) are observed in case No. 4. (C) Inharmoniously large glands (arrows) are noticeable against benign foveolar glands (arrowheads) in case No. 4. (D) A focal mucosal opening giving way to larger, deeply seated glands is noted, resembling lobular endocervical glandular hyperplasia of the uterine cervix (case No. 17). (E) Extremely large neoplastic glands, at least 20 times the size of normal lymphocytes, are noted in case No. 2. An undulating apical mucinous border is also observed (arrows). (F, G) Case No. 3 shows bland-looking gastric-type EWDA glands (arrows) both in gastric (F) and omental biopsy specimens (G). (H) Case No. 11 shows cystically dilated thin neoplastic glands invading the muscularis propria with gastritis cystica profunda-like portions in the submucosa. (I) Glandular cancerization (arrows) in the background of normal foveolar glands (arrowheads) is more commonly found in EWDA than in conventional gastric carcinomas.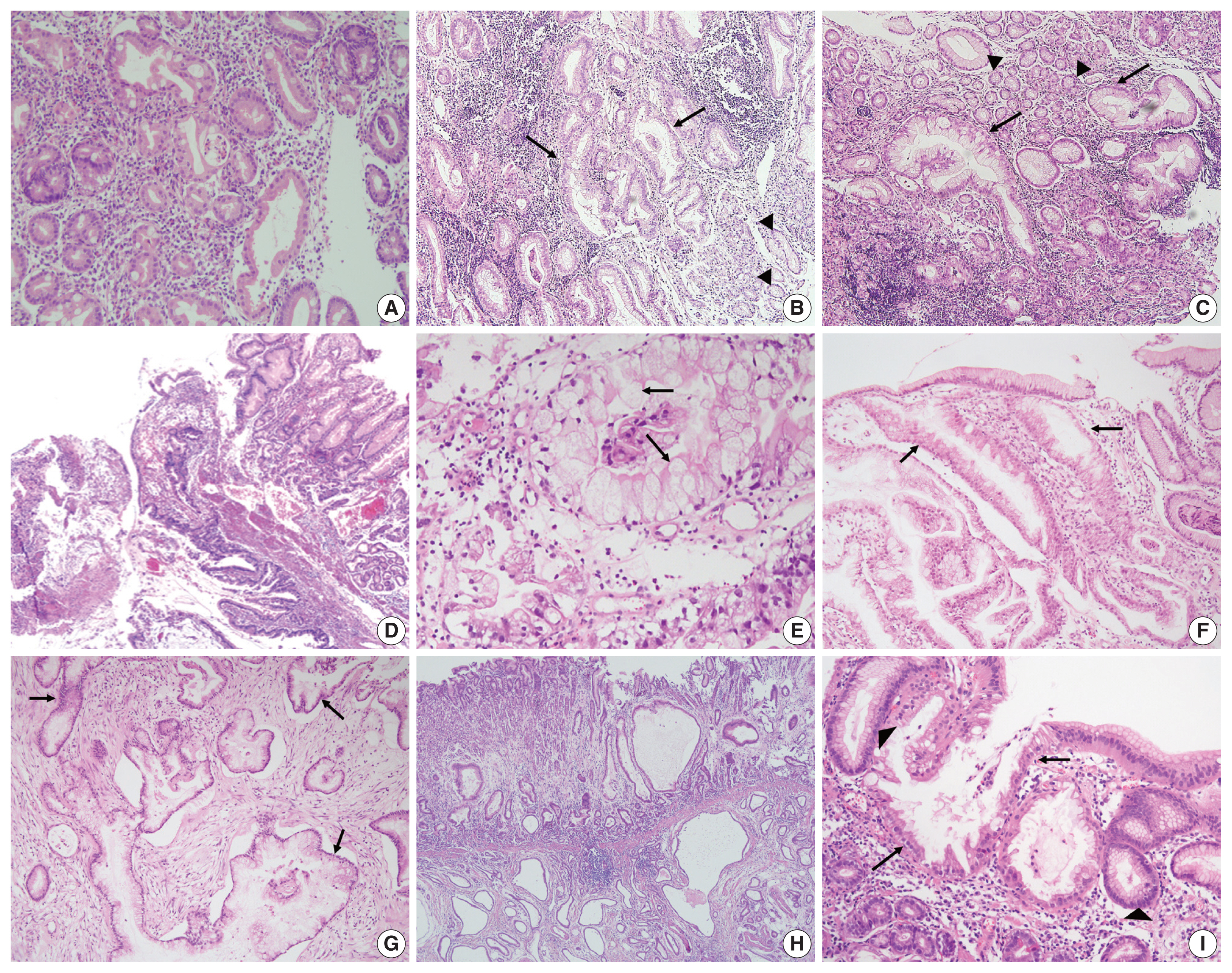 Fig. 2
Endoscopic appearances of diagnostically difficult extremely well-differentiated adenocarcinoma cases. (A) A mucosal elevation with mostly intact mucosa simulating a subepithelial tumor is noted (case No. 1). (B) A slightly elevated lesion with vascular engorgement is noted at angle (case No. 6). (C) A slightly depressed lesion is observed in case No. 12. (D) Diffusely thickened gastric wall in the gastric body is observed (case No. 9). (E) A slightly elevated mass is identified in case No. 7. (F) Thickened gastric folds with vascular engorgement (endoscopically Borrmann type 4) are seen in case No. 13.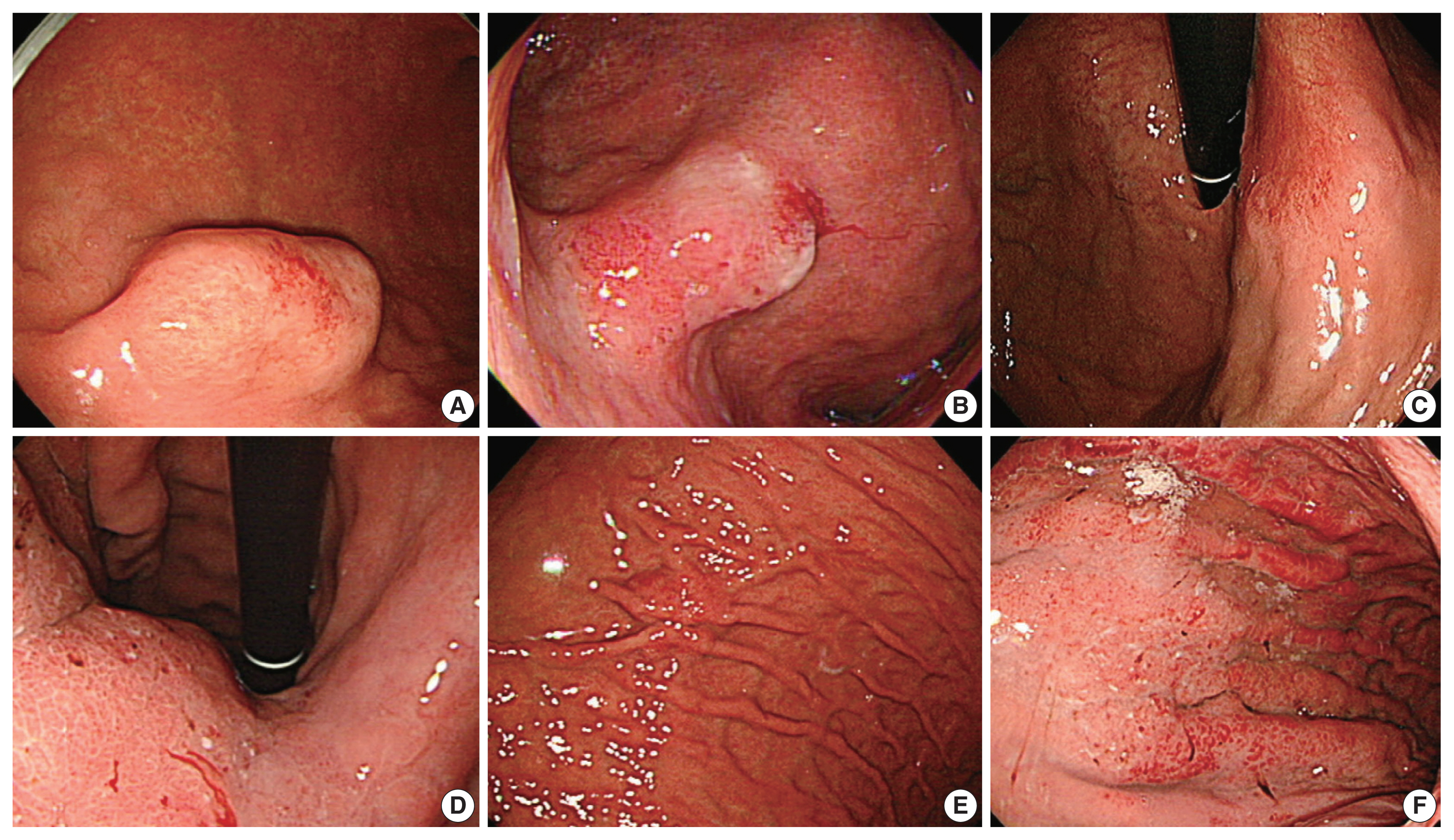 Fig. 3
Comparison between extremely well-differentiated adenocarcinoma (EWDA) and its mimickers. (A) Hyperplastic polyp shows an organized gland shape and aligned nuclei. (B) EWDA glands (case 4) show an irregular glandular shape and irregular nuclear spacing. (C) Normal foveolar epithelium displays regular nuclear spacing with maintenance of the "4 lines" (arrows): line 1, the gastric-type mucin vacuole; line 2, the base of the mucin vacuole; line 3, the cytoplasm; and line 4, the nuclei. (D) Case No. 6 shows large tumor cells with ample mucin, hyperchromatic nuclei, and disrupted four lines. (E) p53 expression is markedly increased in the tumor cells in contrast to the background foveolar epithelium of case No. 7 (p53 immunohistochemistry). (F) Ki-67 in normal foveolar epithelium shows increased expression only along the base of the crypts while the tumor glands (arrows) show a diffuse increase in case No. 8 (Ki-67 immunohistochemistry).
Fig. 4
Immunohistochemical pattern of extremely well-differentiated adenocarcinoma (EWDA). (A) Gastric-type EWDA expresses diffuse MUC5AC immunoreactivity in case 5. (B) MUC6 is focally expressed in case No. 5. (C) CDX-2 shows diffuse nuclear expression in an intestinal-type EWDA (case No. 7). (D) PTEN is lost in this PTEN mutant large cancer cells in contrast to the normal expression in endothelial cells in case No. 3.
Table 1
Clinical information of 19 cases of EWDA
| Case No. | Age (yr) | Sex | Treatment | Follow-up (mo) | Status |
| --- | --- | --- | --- | --- | --- |
| 1 | 77 | F | ESD | 17 | NED |
| 2 | 66 | F | Chemotherapy | 19 | AWD |
| 3 | 31 | M | Chemotherapy | 0.5 | DOD |
| 4 | 56 | F | Surgerya | 35 | AWD |
| 5 | 60 | M | Surgerya | 28 | NED |
| 6 | 62 | M | Surgerya | 23 | NED |
| 7 | 39 | M | Surgerya | 26 | NED |
| 8 | 67 | M | Chemotherapy | 14 | DOD |
| 9 | 72 | M | Surgerya | 26 | AWD |
| 10 | 69 | M | Surgerya | 16 | NED |
| 11 | 58 | M | Surgerya | 8 | NED |
| 12 | 61 | M | Surgerya | 15 | NED |
| 13 | 48 | M | Chemotherapyb | 13 | NA |
| 14 | 63 | M | Surgerya | 80 | NA |
| 15 | 79 | M | Surgeryc | 121 | NA |
| 16 | 65 | M | Surgerya | 70 | NA |
| 17 | 81 | M | Surgerya | 79 | DOD |
| 18 | 55 | M | Surgeryc | 15 | NA |
| 19 | 66 | M | Surgeryc | 15 | NED |
Table 2
Pathologic and endoscopic information of 19 cases of EWDA
| Case No. | Tumor size, greatest dimension (mm) | Location | Endoscopic impression | Mucosal ulceration | Macroscopic findinga | T/N | Distant metastasisb | Lymphovascular invasion |
| --- | --- | --- | --- | --- | --- | --- | --- | --- |
| 1 | 33 | Body | SET | Absent | EGC IIa | T1b/Nx | Absent | Present |
| 2 | NA | Body | SET | Absent | Borrmann 1 | T2/N+b | Present | NA |
| 3 | NA | Body | SET | Absent | Borrmann 1 | T3/N+ | Present | NA |
| 4 | 50 | Body | Slight elevation | Absent | Borrmann 3 | T3/N1 | Absent | Absent |
| 5 | 25 | Body | Slight elevation | Absent | Borrmann 1 | T4a/N0 | Absent | Present |
| 6 | 40 | Cardia | Typical Borrmann 3 | Present | Borrmann 3 | T3/N3a | Absent | Absent |
| 7 | 22 | Body | Slight elevation | Absent | AGC mimicking EGC type IIa | T3/N0 | Absent | Absent |
| 8 | NA | Body | Borrmann 4 | Absent | Borrmann 4 | T3/N+ | Present | NA |
| 9 | 100 | Body | Slight elevation | Absent | Borrmann 4 | T3/N0 | Present | Absent |
| 10 | 40 | Body | Slight elevation | Absent | Borrmann 3 | T3/N0 | Absent | Present |
| 11 | 33 | Body | Slight elevation | Absent | AGC mimicking EGC type IIa | T4a/N0 | Absent | Present |
| 12 | 52 | Body | Slight depression | Absent | AGC mimicking EGC type IIc | T4a/N0 | Absent | Absent |
| 13 | NA | Body | Borrmann 4 | Absent | Borrmann 4 | T2N+ | Present | NA |
| 14 | 57 | Antrum | Typical Borrmann 2 | Present | Borrmann 2 | T3N2 | Absent | Absent |
| 15 | 33 | Body | Typical Borrmann 3 | Present | Borrmann 3 | T2N0 | Absent | Absent |
| 16 | 65 | Body | NA | Present | Borrmann 3 | T4aN3 | Absent | Present |
| 17 | 25 | Cardia | SET | Present | Borrmann 1 | T3N1 | Absent | Present |
| 18 | 33 | Cardia | Typical Borrmann 3 | Present | Borrmann 3 | T2N0 | Absent | Absent |
| 19 | 30 | Body | Slight elevation | Absent | Borrmann 4 | T2N0 | Absent | Absent |
Table 3
Histologic and immunohistochemical features of 19 cases of EWDA
| Case No. | Histologic type | Hyperplastic polyp (biopsy) | Histologic features in pretreatment biopsies | Histologic features in surgical specimens | Background mucosa in pretreatment biopsies | Background mucosa in surgical specimens |
| --- | --- | --- | --- | --- | --- | --- |
| 1 | Gastric | M | S, U | M, S, U | Atrophy | Atrophy |
| 2 | Gastric | - | M, S, U | NA | - | NA |
| 3 | Gastric | - | M, S, U | NA | - | NA |
| 4 | Gastric | - | I, M, S, U | I, M, S, U | - | - |
| 5 | Gastric | M | M, S, U | M, S, U | - | IM |
| 6 | Gastric | - | M, S, U | M, S, U | - | - |
| 7 | Intestinal | - | S | S | - | - |
| 8 | Gastric | M | I, M, S, U | NA | IM | NA |
| 9 | Intestinal | - | I, S, U | I, S, U | - | - |
| 10 | Gastric | - | I, S | I, S | - | IM |
| 11 | Gastric | - | I, S | I, S, U | - | - |
| 12 | Intestinal | M | S, U | I, S, U | IM | IM |
| 13 | Gastric | - | S, U | I, M, S, U | IM | Atrophy, IM |
| 14 | Gastric | - | I, M, S | I, M, S | - | IM |
| 15 | Intestinal | - | S | I, S | IM | IM |
| 16 | Gastric | - | I, M, S, U | I, M, S, U | - | - |
| 17 | Gastric | M | S | S | - | - |
| 18 | Intestinal | - | I, S | I, S | IM | IM |
| 19 | Intestinal | M | I, S | I, S | IM | IM |