Abstract
It is difficult to distinguish nodular fasciitis (NF) from other neoplasm of the parotid gland, especially pleomorphic adenoma (PA) by fine needle aspiration cytology. A 39-year-old female noticed a mass in the parotid region. The aspirate material showed cohesive parts composed of the cells that had oval or spindle-shaped nuclei and relatively abundant cytoplasm and some cells with plasmacytoid features. The background substance was fibromyxoid. PA was diagnosed based on the cytologic findings. Subsequently, parotidectomy was performed and NF was diagnosed based on histologic and immunohistochemical findings. NF in the parotid region is rare and may be misdiagnosed as other benign or malignant tumors of the parotid gland. The clinical history of rapid growth and the presence of mitoses and inflammatory cells help to distinguish NF from PA. In addition, immunohistochemical stains for smooth muscle actin and CD68 are useful to confirm the diagnosis of NF.
Keywords: Nodular fasciitis; Adenoma, pleomorphic; Parotid gland
Nodular fasciitis (NF) is a pseudosarcomatous, self-limiting reactive process composed of fibroblasts and myofibroblasts. NF is most common in young adults between 20 and 40 years of age and its preferential site is the upper extremities, followed by the trunk, especially the chest wall and back. NF in the head and neck is next in frequency and the head and neck is the most common site in infants and children. Most cases of NF measure less than 5 cm, but a few are up to 10 cm in diameter. They typically arise at the subcutaneous or fascial level, but intramuscular location and involvement of organs such as the parotid gland may be seen.
Because NF is rare in the parotid gland and has many cytological similarities to other benign or malignant tumors, cytological misinterpretation is common[1,2]. In particular, NF may be similar to pleomorphic adenoma (PA) in cytological features and is occasionally misdiagnosed as PA[3]. Therefore, we report a case which was diagnosed as PA in the parotid gland based on cytologic findings but was finally diagnosed as NF based on histopathologic findings.
Acknowledgments
This research was supported by the Basic Science Research Program through the National Research Foundation of Korea (NRF) funded by the Ministry of Education, Science and Technology (2011-0012351).
Fig. 1.
Computed tomography image and gross finding of the parotid mass. (A) Computed tomography scan shows a 1.9×1.3×1.2-cm-sized, heterogeneously enhancing lobulated mass (*). (B) The excised tumor is relatively well demarcated, but not encapsulated. The cut surface of the mass is solid and gray white.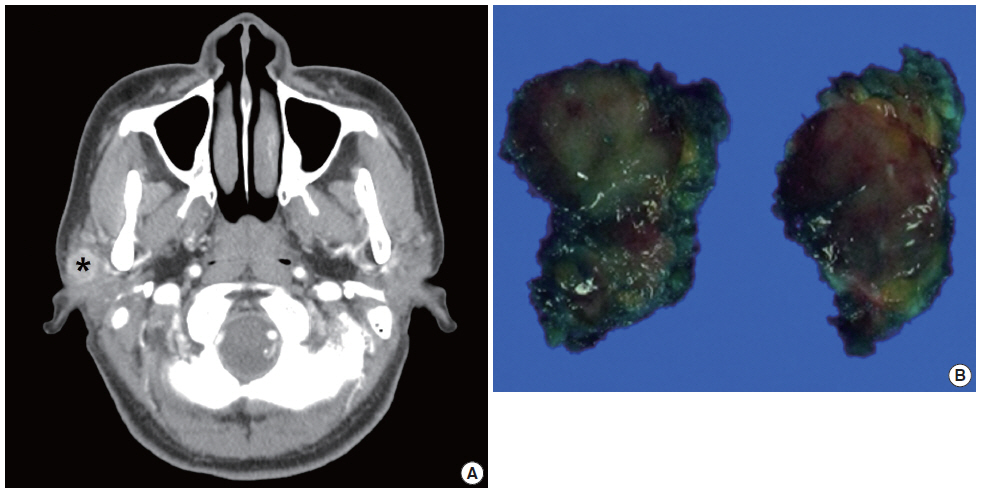 Fig. 2.
The cytologic findings of the parotid mass. (A) On low power, the aspirate shows moderately increased cellular areas and rather fibrous stroma. (B) The cells in the loose fibrocellular part have oval or spindle-shaped nuclei with abundant cytoplasm and are arranged in short loose bundles with myxoid background. (C) Some cells seem to have plasmacytoid features and many inflammatory cells are present (arrows). One mitotic cell is also found (*). (D) The cells in some areas consist of tight fascicles (A–D, Papanicolaou stain).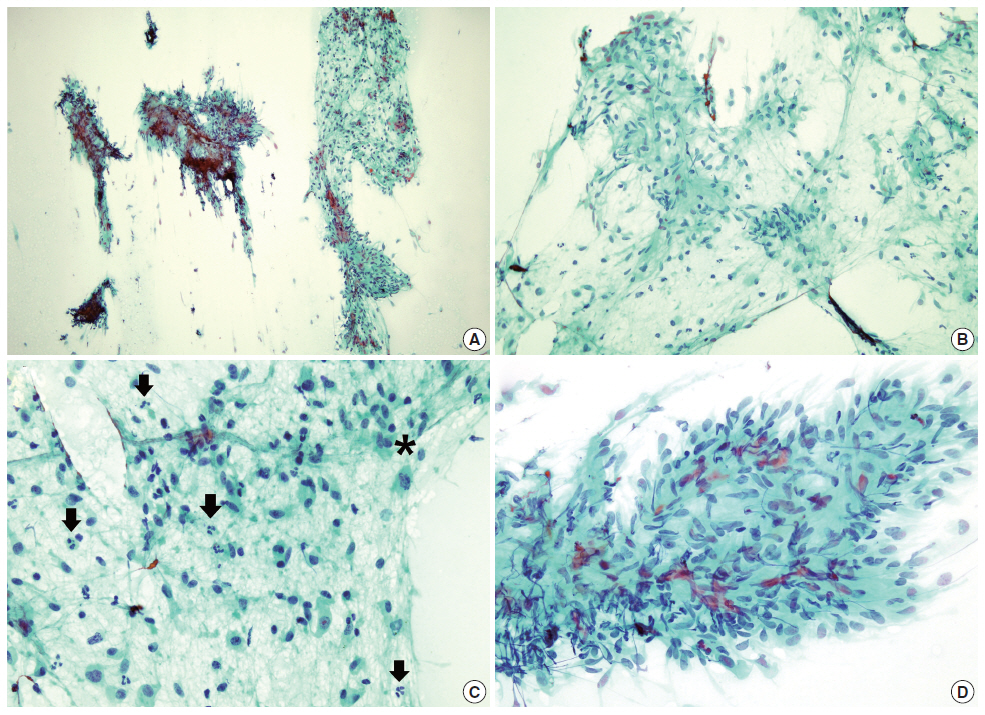 Fig. 3.
The histologic and immunohistochemical findings of the parotid mass. (A) The tumor is composed of relatively uniform spindle-shaped cells arranged in short fascicles. (B) The stroma focally shows loose myxoid features and diffusely scattered extravasated erythrocytes are also noted. (C) A mitotic cell (*) is present. The spindle cells are positive for alpha-smooth muscle actin (D), and negative for S-100 (E). (F) Ki-67 nuclear labeling cells are mildly increased.