Abstract
Nodular fasciitis is a pseudosarcomatous reactive process composed of fibroblasts and myofibroblasts, and it is most common in the upper extremities. Nodular fasciitis of the external auditory canal is rare. To the best of our knowledge, less than 20 cases have been reported to date. We present a case of nodular fasciitis arising in the cartilaginous part of the external auditory canal. A 19-year-old man complained of an auricular mass with pruritus. Computed tomography showed a 1.7 cm sized soft tissue mass in the right external auditory canal, and total excision was performed. Histologic examination revealed spindle or stellate cells proliferation in a fascicular and storiform pattern. Lymphoid cells and erythrocytes were intermixed with tumor cells. The stroma was myxoid to hyalinized with a few microcysts. The tumor cells were immunoreactive for smooth muscle actin, but not for desmin, caldesmon, CD34, S-100, anaplastic lymphoma kinase, and cytokeratin. The patient has been doing well during the 1 year follow-up period.
Keywords: Nodular fasciitis; External auditory canal; Ear
Nodular fasciitis is a relatively common benign soft tissue lesion composed of fibroblastic and myofibroblastic proliferation. Since it was first described in 1955 by Konwaler et al. [1], it remains as the most common benign condition that is confused with sarcoma due to rapid growth, high cellularity, and mitotic activity [2]. Clinically, nodular fasciitis presents as a rapidly growing mass or nodule in adults between 20 to 40 years of age. It is sometimes accompanied by previous history of trauma. It can cause tenderness, pain, numbness or paresthesia depending on its location. It most frequently occurs in the upper extremities, especially the flexor forearm. Trunk and head and neck are also common sites for nodular fasciitis [2-5]. However, nodular fasciitis of the auricular region is unusual [3,4]. Here, we present a rare case of nodular fasciitis of external auditory canal.
Fig. 1.
Radiologic finding. An ovoid mass with soft tissue density (arrow) is noted in the right external auditory canal on computed tomography.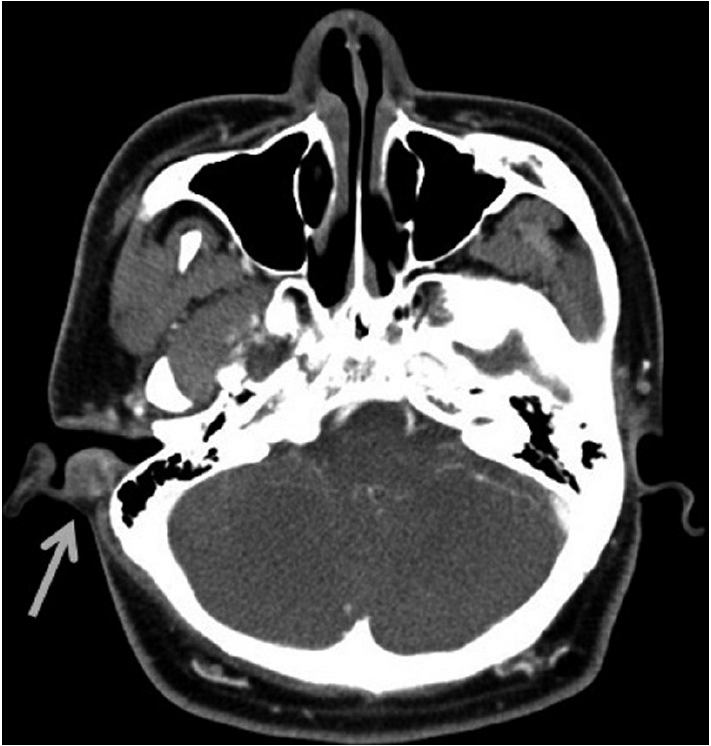 Fig. 2.
Pathologic findings. (A) Spindle cell proliferation shows a vaguely storiform to fascicular pattern. (B) The bland spindle and stellate cells are set in loose myxoid (upper portion) to hyalinized matrix (lower portion). Extravasated red blood cells and scattered lymphoid cells are identified. (C) The tumor cells are positive for smooth muscle actin.