Abstract
Peutz-Jeghers type hamartomatous polyp is known to be associated with Peutz-Jeghers syndrome, which shows characteristic multiple hamartomatous polyp involvement in the gastrointestinal tract, combined with mucocutaneous symptom, familial history of Peutz-Jeghers syndrome or STK11/LTB1 mutation. However, some cases showing histologic appearance of the polyps discovered in Peutz-Jeghers syndrome while lacking other diagnostic criteria of the syndrome have been reported, and these are called solitary Peutz-Jeghers type polyps. Herein, we report a case of solitary Peutz-Jeghers type polyp covered with heterotopic epithelium. The patient was 47-year-old female without any mucocutaneous symptoms nor familial history of Peutz-Jeghers syndrome. Microscopic examination revealed Peutz-Jeghers type hamartomatous polyp in duodenum covered with gastric type foveolar epithelium. Considering the definition of hamartomatous polyp, which is, the abnormal overgrowth of the indigenous epithelial component, the histological feature of current case is noteworthy in a point that it shows proliferation of heterotopic component, rather than the indigenous component.
Keywords: Hamartoma; Intestinal polyps; Duodenum; Gastric mucosa; Peutz-Jeghers syndrome
Hamartomatous polyp is defined as a polyp with disorganized growth of normal cells indigenous to the organ. Especially, Peutz-Jeghers type hamartomatous polyp represents as the arborization of smooth muscle within the lamina propria beneath preexisting normal epithelium of the organ it involves. This polyp is known to be associated with Peutz-Jeghers syndrome, which shows characteristic multiple hamartomatous polyp involvement in the gastrointestinal (GI) tract, combined with mucocutaneous symptom, familial history of Peutz-Jeghers syndrome or STK11/LTB1 mutation [1]. However, there have been a few cases which are histologically identical to those polyps associated with Peutz-Jeghers syndrome, without other clinical evidence diagnostic of Peutz-Jeghers syndrome. These polyps are called solitary Peutz-Jeghers type polyps [2]. We experienced a case of solitary Peutz-Jeghers type hamartomatous polyp in duodenum covered with gastric type foveolar epithelium, rather than the native intestinal columnar epithelium.
CASE REPORT

A 47-year-old woman visited outpatient clinic for incidentally discovered duodenal polyp during regular medical check-up. She did not experience any associated symptoms. She had a history of invasive ductal carcinoma of both breasts in her early to mid-30s and been treated for papillary thyroid carcinoma in her late 30s.
On initial esophagogastroduodenoscopy, a pedunculated polyp occupying half of the luminal space was found in the 2nd portion of duodenum. Histological examination of a biopsy specimen mainly showed hyperplastic gastric foveolar epithelium. Following computed tomography scan revealed a 2.9-cm-sized polypoid lesion in duodenum without any evidence of metastasis (Fig. 1A). The polyp was entirely resected by endoscopic submucosal dissection (Fig. 1B). The patient was discharged without any post-procedural complications.
Histological examination of the resected polyp showed disorganized overgrowth of epithelial cells supported by thick, branching bundles of smooth muscles. The epithelium mainly consisted of foveolar type cells lying over mucinous glands resembling pyloric glands without dysplastic change (Fig. 2A, B). A small amount of surrounding duodenal tissue was identified at the margin of the specimen and it showed focal foveolar type epithelium among normal duodenal villous structures, suggestive of gastric metaplasia. Immunohistochemical staining for MUC5AC and MUC6 confirmed the covering hyperplastic epithelium to be gastric foveolar type with pyloric glands underneath (Fig. 3A, B).
Follow-up endoscopy after 6 months from the procedure revealed no additional polyps. In an in-depth interview afterwards, the patient insisted she had never been diagnosed with hamartomatous polyp before and denied of any familial history nor any mucocutaneous symptoms. Genetic assessment for STK11/LTB1 mutation was not done. According to these findings, the polyp was finally diagnosed as solitary Peutz-Jeghers type polyp with gastric foveolar epithelium.
DISCUSSION
Notes
Fig. 1
Radiologic and endoscopic findings of the duodenal polyp. (A) Abdominal computed tomography image showing 2.9-cm-sized mass in duodenal 2nd portion. (B) A pedunculated polyp occupying half of the duodenal lumen discovered in endoscopic examination.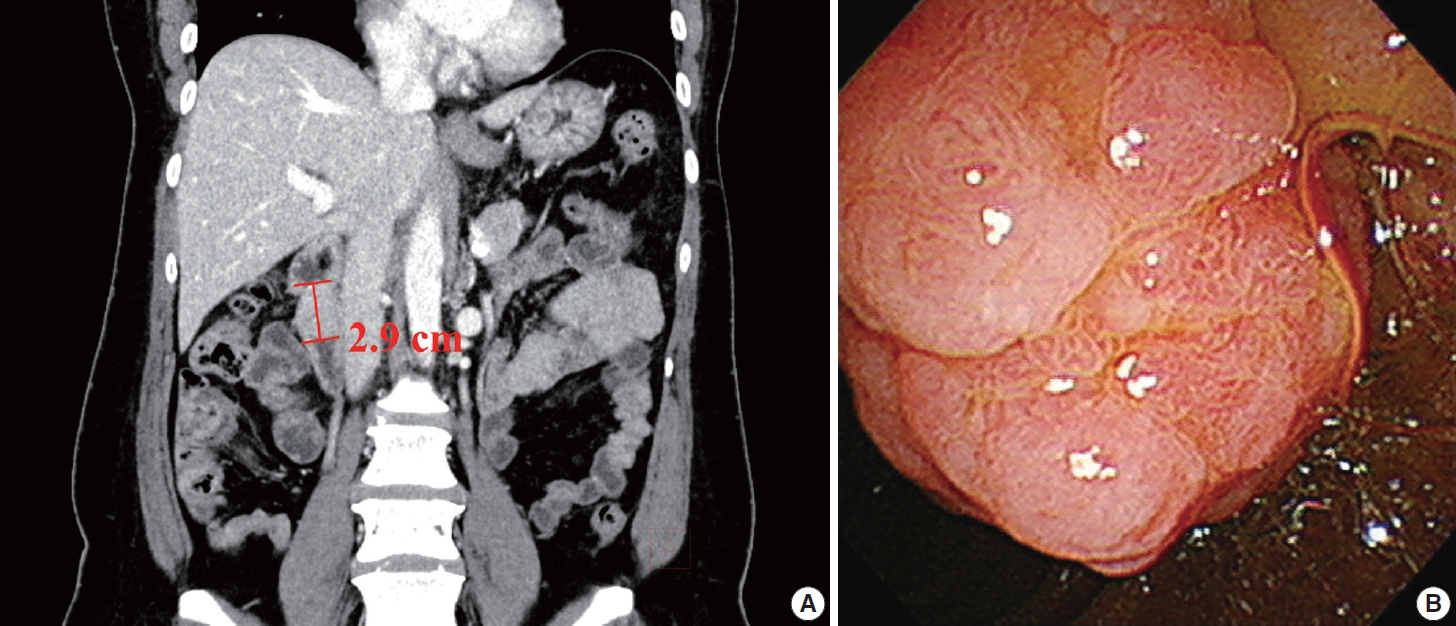 Fig. 2
Histological examination of the resected polyp. (A) Hematoxylin and eosin staining of the resected polyp showing arborizing smooth muscle bundles with overgrowth of superficial foveolar epithelium. (B) Foveolar type epithelium lying over pyloric type-like mucinous glands without dysplasia.
Fig. 3
Immunohistochemical stainings of the resected polyp. (A) Immunohistochemisty for MUC5AC confirms the presence of the overlying gastric type foveolar epithelium. (B) Pyloric gland-like structures showing positivity for MUC6 staining.
References