Cellular angiofibroma is a rare benign mesenchymal tumor. Since first described by Nucci et al. in 1997 [1], this distinct histopathologic entity has been reported in a series of studies [2-4] and case reports [5-7]. The tumor is characterized by two principal components, cellular spindle cells and prominent blood vessels [1]. Mild cytologic atypia and a few mitotic figures have been demonstrated in some cases [2,4]. The tumor occurs mainly in the inguinoscrotal region in men [2-5,7]. The molecular pathogenesis of cellular angiofibroma is largely unknown, although retinoblastoma 1 (RB1) and forkhead box protein O1 (FOXO1) have been implicated in some cases [3,7]. Testicular microlithiasis is a relatively rare condition characterized by calcifications within the seminiferous tubules. Two different types of testicular microlithiasis, hematoxylin bodies and laminated calcifications, have been described [8]. Many laminated calcifications have been associated with atrophic seminiferous tubules or germ cell neoplasia [8,9]. Here, we present a case of double para-testicular cellular angiofibroma and synchronous testicular microlithiasis.
Fig. 1.
Ultrasound examination and gross evaluation of orchiectomy specimen. (A) On ultrasound examination, there is an isoechoic mass in the tail area of the epididymis (white arrow). On the cut surface of the gross specimen, solid soft tissue is noted near the tail of the epididymis (A, white arrow) and near the head of the epididymis (B, black arrows).
Fig. 2.
Histopathologic features of the tumor. (A) The tumor is composed of spindle-shaped mesenchymal cells and thick-walled blood vessels. (B) Two mitotic figures per 50 high-power fields are identified in the mass. There is one of the mitotic cells (arrow). (C) A few stromal cells show atypical nuclear morphology.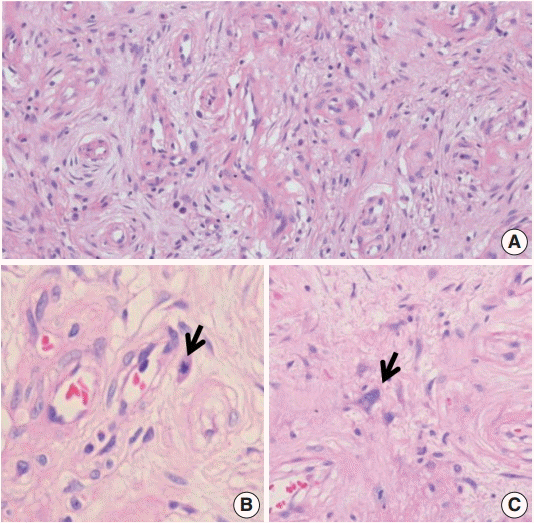 Fig. 3.
Intratubular microcalcification. There are numerous completely hyalinized ghost tubules with corpus amylacea-like laminated intratubular bodies (arrows).