Abstract
Gastric-type extremely well-differentiated adenocarcinoma (EWDA) is a rare type of gastric adenocarcinoma characterized by infiltration of well-formed mucinous glands with little or no nuclear atypia, which resemble foveolar epithelium or pyloric glands. Because of its high degree of differentiation, preoperative biopsy diagnosis of gastric-type EWDA is very difficult. We encountered a case of gastric-type EWDA, manifesting as a Borrmann type 4 lesion, in a 47-year-old man. Despite four repeated biopsies, the preoperative biopsy diagnosis was not conclusive due to the scarcity of diagnostic tumor cells and lack of knowledge regarding the unusual histologic findings of gastric-type EWDA. We herein describe the histologic findings of gastric-type EWDA in detail, with the aim of facilitating a preoperative biopsy diagnosis and understanding of this rare type of gastric adenocarcinoma.
Extremely well-differentiated adenocarcinoma (EWDA) is a rare type of gastric adenocarcinoma, which accounts for less than 0.2% of all gastric cancers [1]. EWDA, as its name suggests, is highly differentiated and almost indistinguishable from regenerating atypia or inflammatory changes. Such a high degree of differentiation and minimal cellular atypia commonly lead to diagnostic difficulties, particularly with preoperative forceps biopsy [1,2]. Based on histological and immunohistochemical differences, EWDAs can be classified into two variants: intestinal-type and gastric-type [2]. In 1999, Endoh et al. [3] first coined the term "extremely well differentiated adenocarcinoma of the stomach" to describe well-differentiated adenocarcinoma with low-grade nuclear atypia and morphology mimicking intestinal metaplasia, which is currently considered a prototype of intestinal-type EWDA. Meanwhile, gastric-type EWDAs are quite different from intestinal-type EWDAs, which consist of benign-looking mucous cells resembling foveolar epithelium, mucus neck cells, or pyloric glands and contain gastric phenotype mucin [2,4,5]. The frequency of diagnosing intestinal-type EWDA with biopsy specimens prior to resection is increasing, since characteristic architectural features of the neoplastic glands, which resemble the shape of the letter W, H, Y, or X, have been reported to be the most informative and useful diagnosis criteria [6]. However, since little is known about gastric-type EWDA due to its rarity, its preoperative diagnosis with biopsy remains challenging. The present case emphasizes the importance of being aware of this rare type of adenocarcinoma in order to make a preoperative biopsy diagnosis.
Fig. 1.
(A, B) Esophagogastroduodenoscopy. (A) A submucosal infiltrative lesion is observed in the upper body. (B) The overlying mucosa is mainly intact with scattered small openings with protruding mucus (arrow and inset). (C–E) Representative microphotographs of invasive carcinoma. (C) Low-magnification view demonstrates that the entire gastric wall is infiltrated by irregular neoplastic glands showing frequent cystic dilatation and intraluminal mucinous material. (D) The mucosal surface is mainly intact, and the neoplastic glands partly involve the deep portion of the mucosa. The neoplastic glands with basally-located, small, bland nuclei and abundant mucin-containing cytoplasm mimic normal gastric foveolar epithelium or pyloric glands. Compared to the adjacent normal glands, they are slightly larger in size and more irregular in shape. (E) Infiltrating neoplastic glands show no significant cytological or architectural atypia and no desmoplastic stromal reaction. (F, G) Representative microphotographs of lobular endocervical glandular hyperplasia-like areas. (F) A cluster of small glands surrounds a central large duct in a distinct lobular arrangement with a sharp border. (G) Such areas are mostly observed in the submucosal layer, and occasionally a central dilated duct with mucinous materials opens through the overlying mucosa (arrow), which is in concordance with mucus protrusion on endoscopy (arrow in Fig. 1B). (H) Immunostaining for MUC5AC is diffusely positive in the tumor glands and foveolar epithelial cells.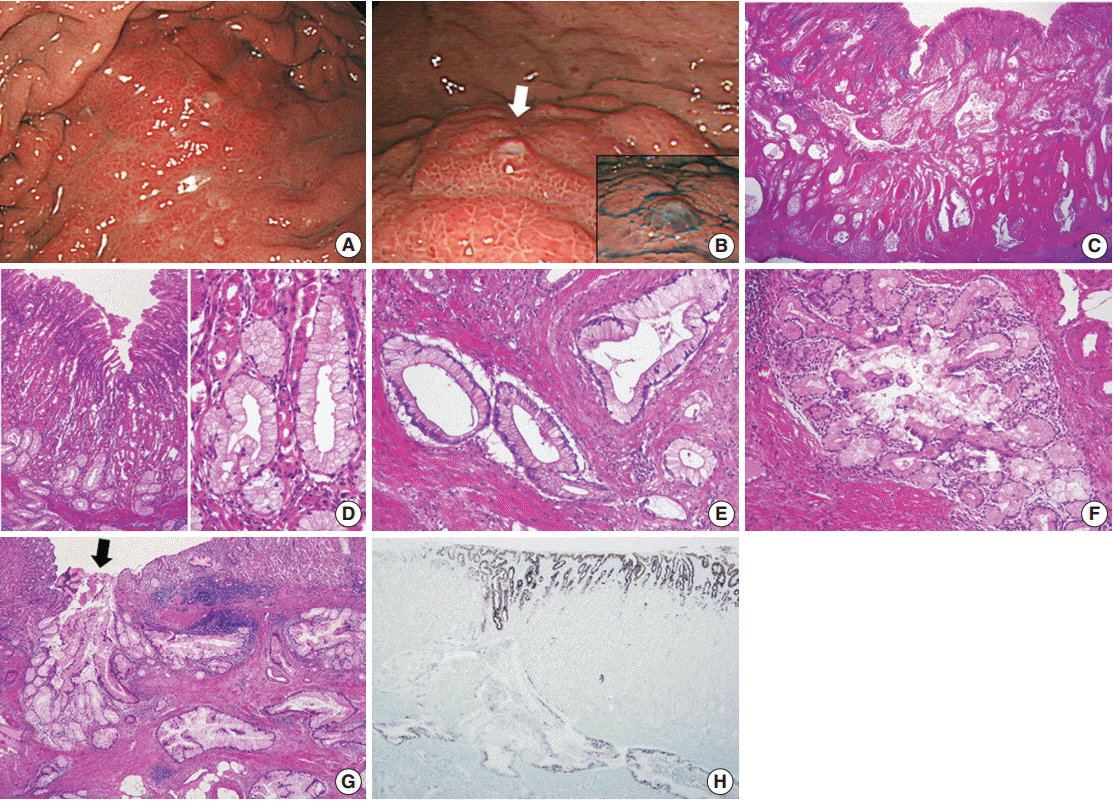 Fig. 2.
Preoperative biopsy findings. (A, B) There are a few atypical mucinous glands (circles) that are noticeably large in size and observe frequently in the basal portion of the corpus mucosa. (C) Such mucinous glands display mild nuclear atypia, but they are not atypical enough to be recognized as adenocarcinoma. (D) These glands are highlighted by MUC5AC immunostaining.
Table 1.
Clinical and pathological findings of previously published cases of gastric-type EWDA in the English literature
| Case No. | Reference | Sex/Age (yr) | Location | Size of tumor (cm) | Macroscopic type | Depth of invasion | Preoperative biopsy diagnosis |
| --- | --- | --- | --- | --- | --- | --- | --- |
| 1 | Niimi et al. [1] | M/58 | Upper third | 7 | Borrmann type 4 | T3 | Benign |
| 2 | Yao et al. [2] | M/81 | Middle third | 5.5 | EGC type 0-I | T1b | Benign |
| 3 | Yao et al. [2] | M/51 | Upper third | 2.5 | EGC type 0-IIa | T1b | NA |
| 4 | Yao et al. [2] | M/63 | Middle third | 8 | Borrmann type 1 | T3 | Benign |
| 5 | Yao et al. [2] | M/76 | Upper third | 3.5 | Borrmann type 1 | T3 | Suspicious for CA |
| 6 | Yao et al. [2] | M/57 | Upper third | 5 | Borrmann type 1 | T3 | NA |
| 7 | Nokubi et al. [4] | M/60 | Cardia | NS | Borrmann type 4 | T4b | CA on repeated biopsy |
| 8 | Lee [5] | M/67 | Cardia | 7 | Borrmann type 1 | T3 | Benign |
| 9 | Present case | M/47 | Upper third | 6.5 | Borrmann type 4 | T4a | Benign |