Abstract
Background
Stroke involving the cerebral white matter (WM) has increased in prevalence, but most experimental studies have focused on ischemic injury of the gray matter. This study was performed to investigate the WM in a unique rat model of photothrombotic infarct targeting the posterior limb of internal capsule (PLIC), focusing on the identification of the most vulnerable structure in WM by ischemic injury, subsequent glial reaction to the injury, and the fundamental histopathologic feature causing different neurologic outcomes.
Methods
Light microscopy with immunohistochemical stains and electron microscopic examinations of the lesion were performed between 3 hours and 21 days post-ischemic injury.
Results
Initial pathological change develops in myelinated axon, concomitantly with reactive change of astrocytes. The first pathology to present is nodular loosening to separate the myelin sheath with axonal wrinkling. Subsequent pathologies include rupture of the myelin sheath with extrusion of axonal organelles, progressive necrosis, oligodendrocyte degeneration and death, and reactive gliosis. Increase of glial fibrillary acidic protein (GFAP) immunoreactivity is an early event in the ischemic lesion. WM pathologies result in motor dysfunction. Motor function recovery after the infarct was correlated to the extent of PLIC injury proper rather than the infarct volume.
Conclusions
Pathologic changes indicate that the cerebral WM, independent of cortical neurons, is highly vulnerable to the effects of focal ischemia, among which myelin sheath is first damaged. Early increase of GFAP immunoreactivity indicates that astrocyte response initially begins with myelinated axonal injury, and supports the biologic role related to WM injury or plasticity. The reaction of astrocytes in the experimental model might be important for the study of pathogenesis and treatment of the WM stroke.
Keywords: Stroke; White matter; Models, animal; Pathology; Ultrastructure
As the human life span has continued to increase, stroke patterns have changed. Ischemic stroke, which constitute 80%–85% of stroke cases, comprise both the gray matter (GM) and white matter (WM) of the brain. The prevalence of WM injury causing motor and intellectual dysfunction has increased with the aging population [1]. Neuroimaging methods have shown rarefaction of the WM resulting from injury, which is termed leukoaraiosis [2]. Ischemic stroke confined to WM, called ischemic leukoencephalopathy, is a feature of leukoaraiosis that can be observed in humans through neuroimaging [3]. Currently, the most common etiology and pathogenesis of leukoaraiosis are undefined vascular or ischemic events [4,5].
Up to 25% of WM strokes cause lacunar change, and the internal capsule (IC) is commonly affected in humans [6]. The posterior limb of the IC (PLIC) is the fundamental subcortical motor pathway; it includes the major corticofugal tract that is directly related to motor function. Infarction of the PLIC results in a challenging clinical progress characterized by persistent motor disability; therefore, studies on pathophysiological alterations and therapeutics are essential [7].
Animal models have been used to understand the pathophysiology of strokes and to guide the development of more effective therapeutic or rehabilitative interventions [8-11]. Few studies have investigated WM injury when compared with studies on the effect of ischemia in the GM. This limitation is partly due to the difficulty in generating animal models of WM stroke. While the weight of human brain is 1,300 to 1,500 g, that of the rat brain is 5.5 to 6.0 g. Moreover, the substantially lower WM/GM ratio in rodents (approximately 14%:86%) compared with primates (40%:60%) increases the difficulty in targeting the WM structure [12].
A literature search through publications spanning the last 10 years revealed several experimental methods used to develop WM stroke models, including occlusion of the common carotid artery, proximal middle cerebral artery [13] and anterior choroidal artery (AchA) [14] and administration of the vasoconstrictive agent endothelin-1 (ET-1) into the subcortical WM, IC, and striatum [15-19]. However, infarcts selectively targeting the IC and resulting in chronic motor impairment cannot be induced consistently. Long-term follow-up studies have failed to produce long-term, persistent motor deficits in the experimental models [19,20]. The lack of rat models of WM stroke has several possible neuroanatomical reasons, including the much smaller WM area of rats compared with primates, the irregularly elongated IC structure, and the absence of efficient tools selectively targeting the IC [6,12]. Therefore, accurately assessing and controlling the infarct location from the brain surface is difficult stereotactically.
To establish a WM infarct model producing long-term forelimb and hind limb motor deficits, selective ischemic injury of the pyramidal tract is critical. Previously, we created a highly reproducible rat model of IC-specific stroke using a photothrombotic technique, which involves selectively illuminating the PLIC after intravenous injection of Rose Bengal solution [21,22]. The infarct lesions occurred in the PLIC without any significant injury to surrounding structures including the putamen, optic nerve, and WM. Neurologic motor functions significantly decreased immediately after the ischemia and recovered variably. Through the investigation of the early and comprehensive histopathology and ultrastructural changes resulting from focal cerebral WM ischemia, the purpose of this study was to determine which structure of the WM is the first to be damaged, how glial response appears to the damage, and what is the most important factor causing different neurologic outcomes.
Acknowledgments
This study was supported by a grant (CRI 13072-3) of the CNUH-GIST.
Fig. 1.
A 28-gauge needle with an optical fiber (A, inset) inserted stereotactically into the posterior limb of the internal capsule (B), 2.0 mm posterior, 3.1 mm lateral to midline, and 7.2 mm deep from bregma, to produce the infarction.

Fig. 2.
A series of frozen sections with Nissl staining to measure infarct volume, marked with red dotted line, are present (A). Graphic presentation of the volumes reveals no significant difference between the moderate recovery group (MRG) and poor recovery group (PRG) (B).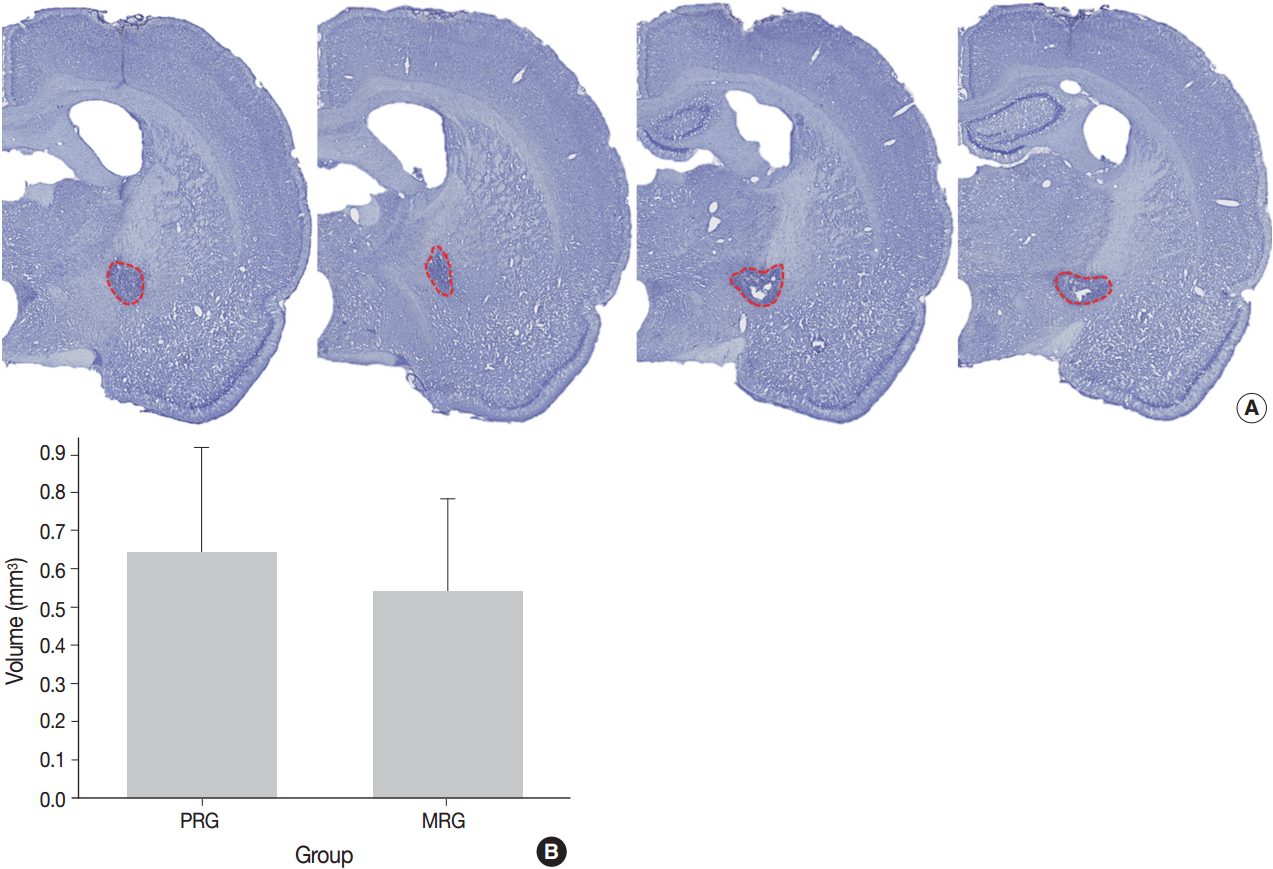 Fig. 3.
Light microscopy findings of stroke involving the poster limb of the internal capsule (PLIC). Coronal sectioning reveals a poorly defined focal lesion characterized by loss of hematoxylin and eosin (H&E) staining (A) and increased glial fibrillary acidic protein (GFAP) staining (B) at 3 hours post-ischemia. A well-demarcated, pale, whitish lesion is identified by low magnification microscopy via H&E and luxol fast blue–periodic acid-Schiff (LBPAS) staining (C, D), and GFAP and neurofilament protein immunostaining (E, F) at 12 hours to 1 day post-ischemia. The focal lesion shows central necrosis surrounded by macrophages (G) phagocytized with myelinated axon debris (H) by LBPAS staining, and GFAP-positive hypertrophic astrocytes along the lesion periphery (I) at 4 days post-ischemia. The necrotic center is gradually reduced in volume, and infiltrating macrophages decrease in number at 7 days post-ischemia. However, macrophages persist, and phagocytize periodic acid-Schiff–positive myelin debris as shown through LBPAS staining (J). At 14 to 21 days post-ischemia, the infarct lesion presents as a pseudocystic cavity consisting of reactive astrocytes, macrophages, and newly formed capillaries. The motor recovery at 14 to 21 days post-ischemia is related to the completeness of axonal injury in the PLIC. In the moderate recovery group, LBPAS staining in the PLIC revealed a pseudocystic lesion surrounded by GFAP-positive reactive astrocytes (K), and partially preserved myelinated axons passing in the PLIC periphery (L). In the poor recovery group, myelinated axons in the PLIC were completely disrupted as shown by LBPAS staining (M) and were replaced by a cystic cavity surrounded by GFAP-positive reactive astrocytes (N).

Fig. 4.
Ultrastructural findings during the early stage of stroke involving the poster limb of internal capsule (PLIC). In the control group, a myelinated axon unit in PLIC had a compact lamellar sheath closely encompassing an axon (A, ×6,000). Each axon was filled with intermediate filament structures, called neurofilaments, and mitochondria. The lesion group presents early pathologic changes; nodular swelling and loosening of the myelin sheath, empty cystic change of submyelin space, polygonal wrinkling of axons, and accentuated cleft along the nuclear membrane of an oligodendrocyte (B, ×3,000) at 3 hours post-ischemia. Progressive loosening of the myelin sheath covers crinkled axons developing characteristic laminating whorled appearance (C, ×10,000) at 6 hours post-ischemia. Axonal swelling with a reactive change of the glial cells presented at 12 hours to 1 day post-ischemia (D-G). Swollen axons full of mitochondria, vesicles, and granules surrounded by acompact myelin sheath appeared. Fibrin thrombosis in capillary lumen (asterisk), a ruptured myelin sheath with extrusion of axonal organelles (arrows), and cystic vacuoles in the vicinity of swollen axons presented (D, ×12,000). Club-shaped processes of reactive astrocytes (arrows) intimately contacted swollen axons and organelles drifted from injured myelinated axons (E, ×6,000). Degenerative changes in an oligodendrocyte appear as an isolated cell with nuclear cytoplasmic dissociation by an irregular cleft, vesicles, and swollen mitochondria in the cytoplasm, and nuclear chromatin condensation along the nuclear membrane (F, ×6,000). Note the different stages of myelinated axon injury; from swollen axons filled with electrondense organelles surrounded by a loosely arranged, laminating myelin sheath to demyelinated ghost axons formed by cystic vacuoles containing sparsely granular or myeloid debris (G, ×6,000). A series of myelinated axonal injury, from loosening myelin sheath to macrophages infiltration phagocytized myelin and other cellular debris, was present at 4 days post-ischemia (H, ×6,000).
Table 1.
Experimental design of time interval and number of rats in photothrombotic capsular infarct
Time of post-ischemia

---

3 hr
6 hr
12 hr
1 day
4 days
7 days
14 days
21 days
Light microscopy
 Stroke lesion group
2
2
2
4
4
4
a8a
a8a
 Sham operation group
2
2
2
2
2
2
2
2
Electron microscopy
1
1
1
2
2
2
2
2
Infarct volume
-
-
-
-
-
-
14b
-
Table 2.
Histopathologic features of photothrombotic capsular infarct through the time
Time (post-ischemia)
Light microscopy
Electron microscopy
3-12 hr
Focal lesion with blurred margin
Nodular swelling and loosening of compact myelin sheath
Myelin pallor by H&E and LBPAS stain
Submyelin edema, interstitial
Increased GFAP and decreased NFP immunoreactivity from lesion center
Mild wrinkling of axons, but intact neurofilaments and mitochondria
Reactive astrocytes with hypertrophic processes
1 day
Focal lesion on PUC with well-defined margin
Fibrin thrombosis and capillary luminal obstruction
Increased GFAP immunopositivity in the lesion and surrounding white matter
Axonal swelling and flooding of organelles, extracellular edema
Rupture of myelin sheath with subsequent demyelination
Loss of NFP immunopositivity and LBPAS stainability
Reactive astrocytes with hypertrophic processes
No inflammatory cell infiltration
Degeneration and apoptosis of oligodendrocytes
4 days
Focal infarct with central necrotic cavity surrounded by macrophages engulfing myelin debris
Markedly swollen axons with demyelination forming inflated ball or cystic appearance
Loss of myelinated axons of PLIC
Marked extracellular edema with exudation
GFAP immunopositive hypertrophic astrocytes along the border of infarct and its vicinity
Necrosis of cellular elements
Macrophages phagocytized with myelin debris and dense bodies
7 days
Focal infarct with necrotic cavity surrounded by macrophages engulfing myelin debris, newly formed capillaries, and reactive astrogliosis
Reduced exudative change
Degeneration and loss of myelin sheath, demyelinated axons
Macrophages phagocytized with myelin debris and dense bodies
14 days
Focal infarct with necrotic cavity containing macrophages, hypertrophic astrocytes and newly formed capillaris
Demyelinated axons
Astrogliosis
Macrophages, progressively reduced in number
Macrophages, markedly reduced phagocytic debris
21 days
Focal infarct with reduced necrotic cavity containing few macrophages and angiogliosis
Demyelinated axons
Astrogliosis
Mecrophages with phagocytic debris still present