Abstract
Background
MicroRNAs (miRNA/miR) play significant roles in the regulation of cell differentiation, cell cycle progression, and apoptosis. They become dysregulated during carcinogenesis and are eventually released into the circulation, enabling their detection in body fluids. Thus, this study compared the miRNA expression in tissue and plasma samples of colorectal cancer (CRC) patients and clinically healthy controls and determined miRNA expression as a potential CRC biomarker.
Methods
Using quantitative reverse transcription polymerase chain reaction (RT-qPCR), miR-21-5p, miR-29a-3p, miR-92a-3p, miR-135b-5p, miR-196b-5p, and miR-197-3p, expression was analyzed and compared between the malignant (n = 41) and the adjacent neoplasm free mucosal tissues (n = 41) of CRC patients. The findings were validated in plasma samples (n = 36) collected from the same CRC patients prior to surgery or any form of treatment and compared to plasma from their age and sex-matched controls (n = 36).
Results
MiR-21-5p, miR-29a-3p, miR-92a-3p, and miR-196b-5p were upregulated and miR-135b-5p was downregulated in CRC malignant tissues compared to their expression in adjacent neoplasm-free tissue. This was further observed in the plasma of the same CRC cases compared to controls. MiR-92a-3p showed itself the most sensitive (0.93; p < .001) and most specific (0.95; p < .001) in detecting CRC in tissue. In plasma, miR-196b-5p was the most sensitive (0.97; p < .001) and specific (0.94; p < .001) in detecting CRC. Plasma miR-92a-3p and miR-196b-5p were the most sensitive (0.95; p < .001) and specific (0.94; p < .001) in the early detection of CRC.
Conclusions
Results show that specific miRNAs dysregulated in malignant tissues are released and can be detected in the circulation, supporting their potential as non-invasive biomarkers of CRC.
Keywords: mircroRNA; Colorectal neoplasm; Liquid biopsy; Biomarker
Colorectal cancer (CRC) is a potentially preventable disease due to its slow development, unlike other solid tumor malignancies [1]. However, it remains a major cause of cancer-related deaths worldwide since approximately 90% of CRC patients are diagnosed only after presentation of signs and symptoms and are already in the more advanced stage of the disease [2]. GLOBOCAN reported over 1.9 million new CRC cases and 935,173 deaths in 2020 [3].
A screening program for CRC is probably the best way to mitigate the disease. It is estimated that over 95% of CRC cases would benefit from curative surgery if diagnosis is made at an early or premalignant polyp stage [4]. CRC screening programs worldwide are targeted at adults from 50–55 years of age, a population at increased risk of adenomas and cancer. Screening is based on several methods with varied advantages and drawbacks and different economic impact. Existing screening modalities to diagnose CRC are most often impractical due to invasiveness and cost (e.g., colonoscopy) or insufficient diagnostic accuracy (e.g., fecal-based occult blood tests) [5,6].
The discovery of notable numbers of non-coding microRNAs (miRNA/miR) that are stable in tissues and body fluids such as plasma, serum, stool, and exosomes could lead to development of a novel approach to CRC detection using circulating miRNAs as early diagnostic biomarkers for CRC. MiRNAs are small non-coding RNAs involved in gene regulation and cancer development. These miRNAs modify cell proliferation, apoptosis, and metastasis through their interaction with intracellular signaling networks [7]. Numerous studies [8,9] have discovered aberrantly expressed miRNAs in several human malignancies. Wikberg et al. [10] observed that plasma miRNA levels significantly increased approximately three years prior to presentation of symptoms and CRC diagnosis. This finding supports the potential of circulating miRNA to improve existing CRC risk prediction and screening strategies.
Up- and downregulation of miRNA expression are seen in CRC. Several miRNAs exhibit tissue-specific or development-stage-specific expression patterns and play potential roles in maintaining tissue identity and function. Similarly, miRNAs play a vital role in malignancy as tumor suppressors and oncogenes. Thus, discovery of novel miRNAs and validation of specific signature miRNAs in a specific population can potentially change the landscape of CRC diagnostics.
Numerous miRNAs have been identified as candidate biomarkers of CRC in several independent studies through sequencing and polymerase chain reaction (PCR) techniques [11–22]. Among the miRNAs, miR-21-5p, miR-29a-3p, miR-92a-3p, miR-135b-5p, miR-196b-5p, and miR-197-3p were validated in other populations; hence, these were tested in a group of Filipino CRC patients and clinically healthy controls.
Acknowledgments
Acknowledgments
We would like to express our gratitude to Robert Ternola, Caren Joy Bacsid, and Patrick Jun Paul Lawan for their technical assistance.
Fig. 1
Heatmap analysis showing differential expression of selected miRNA. (A) Heatmap of selected miRNA in malignant and neoplasm-free colorectal tissues. Each row (1–41) represents a tissue sample. (B) Heatmap of selected miRNA in colorectal cancer (CRC) plasma and clinically healthy control plasma. Each row (1–36) represents a plasma sample. (C) Heatmap of selected miRNAs in plasma of early (I/II) and late stages (III/IV) of CRC. Each row (1–20) represents a plasma sample. The first and second columns for each miRNA in each heatmap represent respective malignant and adjacent neoplasm-free tissues (A) plasma from CRC patients and healthy controls (B) and early (n = 16) and advanced (n = 20) stages (C). The color scale shows saturation and brightness based on the mean values of the data set. The largest mean values are shown in red (> 40), while the lowest mean values are shown in green (< 10). The mean intensities of miR-21-5p, miR-196b-5p, miR-92a-3p, and miR-29-3p are stronger in malignant colorectal cancer tissue and plasma of CRC patients compared to controls. In contrast, miR-135b-5p has a lower intensity in malignant colorectal cancer tissue and plasma of CRC patients. The mean intensities of miR-21-5p, miR-196b-5p, miR-92a-3p, and miR-29-3p are stronger in early stages compared to late stages of CRC. MiR-135b-5p and miR-197-3p have lower mean intensity in early stages compared to late stages of CRC.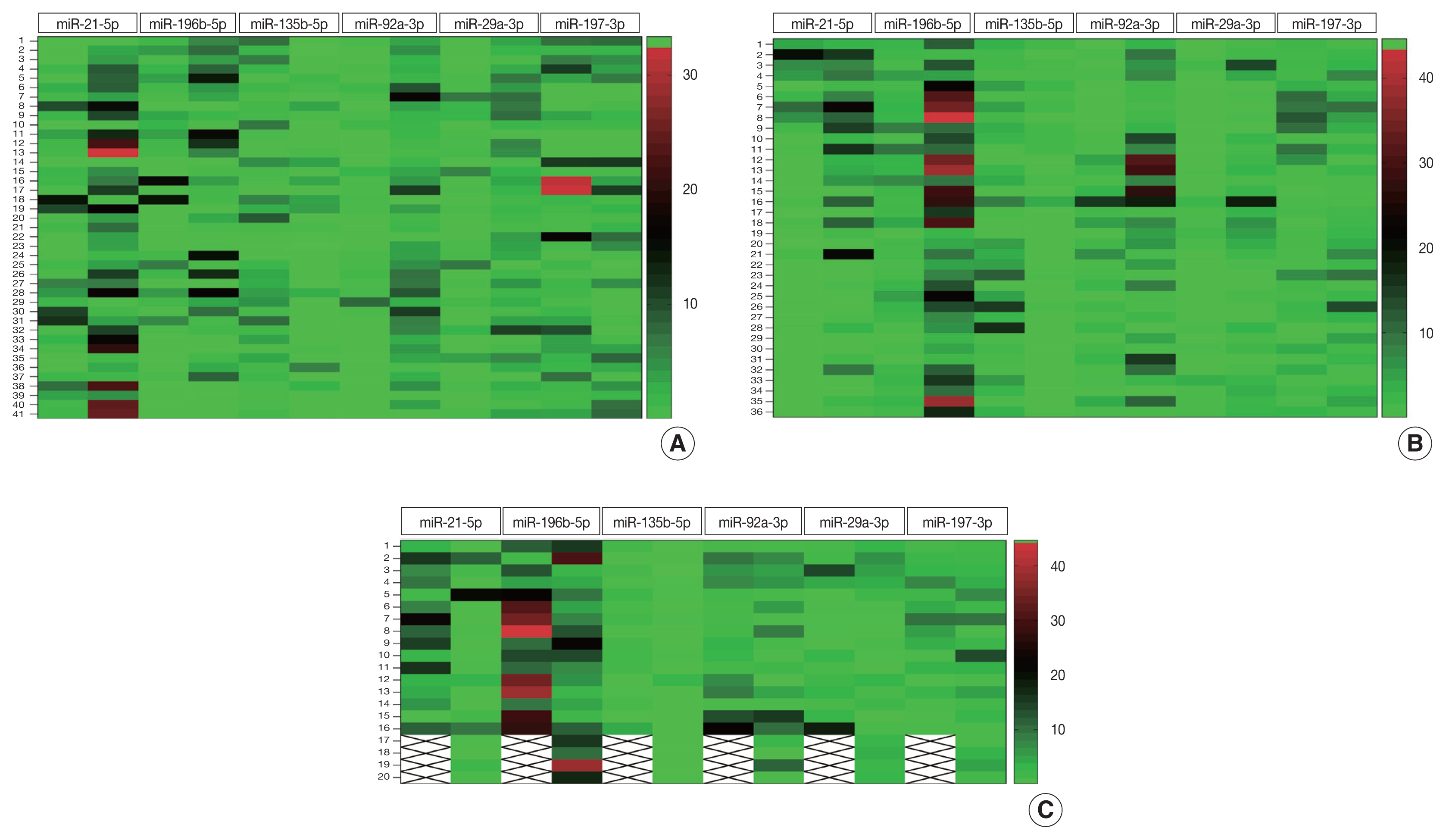 Table 1
Clinicopathologic profile of cases
Characteristics
No (%) (n = 41)
Age
 < 60
18 (44)
 > 60
23 (56)
Sex
 Male
18 (44)
 Female
23 (56)
Location of tumor
 Rectum/cecum/rectosigmoid
34 (83)
 Sigmoid ascending/transverse and descending
7 (17)
Histologic type
 Adenocarcinoma
33 (80)
 Mucinous cell carcinoma/signet ring cell carcinoma
8 (20)
Histologic grade
 Well-differentiated
26 (63)
 Moderately to poorly differentiated
15 (37)
TNM stage
 Stage I/II
20 (49)
 Stage III/IV
21(51)
Lymph node metastasis
 N0–N1
29 (71)
 N2
12 (29)
Distant metastasis
 M0–M1
28 (68)
 Mx
13 (32)
Tumor size
 < 5 cm
18 (44)
 > 5 cm
23 (56)
Depth of tumor infiltration
 Muscularis propria
18 (44)
 Muscularis propria into the pericolic adipose tissue and outside
23 (56)
Perineural invasion
 Absent
39 (95)
 Present
2 (5)
Table 2
Relative expression, fold change, and fold regulation of selected miRNAs in tissue and plasma
miRNA
Mean expression in tissue
Mean expression in tissue after outlier removal
Fold change in tissue (n = 41)
Mean expression in plasma
Mean expression in plasma after outlier removal
Fold change in plasma (n = 36)
Fold regulation in tissue and plasma

---

---

---

---

Malignant tissue (n = 41)
Adjacent neoplasm-free tissue (n = 41)
p-value
Malignant tissuea
Adjacent neoplasm-free tissuea
p-value
CRC cases (n = 36)
Clinically healthy controls (n = 36)
p-value
CRC casesa
Clinically healthy controlsa
p-value
miR-21-5p
9.35 ± 8.28
5.49 ± 6.44
< .001
8.76 ± 7.44
1.43 ± 1.25
< .001
4.23
5.84 ± 6.56
2.05 ± 4.15
< .001
5.82 ± 6.65
0.44 ± 0.47
< .001
8.40
Upregulated
miR-196b-5p
4.39 ± 5.09
2.19 ± 3.52
.026
2.61 ± 2.79
0.96 ± 1.06
.010
2.45
16.60 ± 12.09
3.13 ± 2.31
< .001
19.20 ± 13.65
2.58 ± 1.40
< .001
4.75
Upregulated
miR-92a-3p
4.45 ± 3.56
0.79 ± 1.35
< .001
3.38 ± 2.02
0.59 ± 0.57
< .001
7.41
7.63 ± 8.29
2.24 ± 2.93
< .001
5.18 ± 4.32
1.43 ± 1.11
< .001
2.50
Upregulated
miR-29a-3p
3.41 ± 2.53
1.27 ± 1.84
< .001
3.40 ± 2.52
0.56 ± 0.33
< .001
3.56
3.15 ± 3.79
0.80 ± 0.86
< .001
2.35 ± 1.71
0.59 ± 0.43
< .001
2.89
Upregulated
miR-135b-5p
1.06 ± 1.64
2.64 ± 2.58
< .001
0.32 ± 0.43
2.47 ± 2.35
< .001
0.17
0.89 ± 0.99
3.98 ± 4.06
< .001
0.74 ± 0.69
2.96 ± 2.23
< .001
0.44
Downregulated
miR-197-3p
3.33 ± 3.36
4.80 ± 7.38
.676
2.61 ± 2.79
2.30 ± 2.07
.681
0.78
3.86 ± 3.04
3.45 ± 3.50
.112
3.15 ± 1.89
2.88 ± 1.14
.656
1.32
Not significant
Table 3
Relative expression of selected miRNAs in tissue and plasma of patients with early (I/II) and advanced stage (III/IV) CRC
miRNA
Mean expression of miRNA in tissue
p-value
Mean expression of miRNA in plasma
p-value

---

---

Early stage (n = 20)
Advanced stage (n = 21)
Early stage (n = 16)
Advanced stage (n = 20)
miR-21-5p
10.13 ± 10.87
8.02 ± 7.39
.531
12.33 ± 5.33
7.14 ± 5.13
.006
miR-196b-5p
3.58 ± 2.53
5.02 ± 5.05
.769
10.76 ± 1.93
5.54 ± 2.35
< .001
miR-135b-5p
1.05 ± 1.63
0.76 ± 1.26
.611
2.34 ± 1.22
10.80 ± 3.76
< .001
miR-92a-3p
12.51 ± 11.89
14.90 ± 14.59
.578
9.92 ± 2.53
2.94 ± 2.95
< .001
miR-29a-3p
5.30 ± 3.19
5.06 ± 4.14
.473
6.67 ± 2.18
3.32 ± 2.18
< .001
miR-197-3p
1.18 ± 0.73
1.50 ± 1.49
.879
1.16 ± 1.03
2.60 ± 2.05
.007
Table 4
Correlation of the expression levels of selected miRNAs in tissue and plasma of CRC patients
Sample
miR-21-5p
miR-196b-5p
miR-135b-5p
miR-92a-3p
miR-29a-3p
miR-197-3p

---

---

---

---

---

---

Mean expression level
r
p-value
Mean expression level
r
p-value
Mean expression level
r
p-value
Mean expression level
r
p-value
Mean expression level
r
p-value
Mean expression level
r
p-value
Tissue
9.35 ± 8.28
0.33
.049
4.39 ± 5.09
0.02
.921
1.06 ± 1.64
0.14
.430
4.45 ± 3.56
0.54
.007
3.41 ± 2.53
0.52
.048
3.33 ± 3.36
−0.24
.150
Plasma
5.84 ± 6.56
16.60 ± 12.09
0.89 ± 0.99
7.63 ± 8.29
3.15 ± 3.79
3.86 ± 3.04
Table 5
Diagnostic performance of the selected miRNA for CRC
miRNA
Diagnostic performance for CRC irrespective of cancer stage using tissue samples
Diagnostic performance for CRC irrespective of cancer stage using plasma samples
Diagnostic performance for early-stage CRC using plasma samples

---

---

---

AUC
Cutoff point
Sensitivity
Specificity
AUC
Cutoff point
Sensitivity
Specificity
AUC
Cutoff point
Sensitivity
Specificity
miR-21-5p
0.78
3.56
0.80
0.83
0.78
3.89
0.81
0.83
0.77
3.69
0.80
0.81
miR-196b-5p
0.64
0.97
0.68
0.71
0.94
4.96
0.97
0.94
0.94
5.24
0.95
0.94
miR-135b-5p
0.76
2.32
0.80
0.83
0.83
1.45
0.86
0.89
0.84
2.05
0.85
0.88
miR-92a-3p
0.89
1.40
0.93
0.95
0.76
1.39
0.81
0.81
0.95
1.79
0.95
0.94
miR-29a-3p
0.81
1.23
0.85
0.83
0.83
1.21
0.86
0.83
0.87
0.41
0.90
0.88
miR-197-3p
0.52
2.41
0.56
0.63
0.60
2.06
0.61
0.67
0.76
2.41
0.80
0.81