Abstract
Background
Detection of glandular abnormalities in Papanicolaou (Pap) tests is challenging. This study aimed to review our institute's experience interpreting such abnormalities, assess cytohistologic concordance, and identify cytomorphologic features associated with malignancy in follow-up histology.
Methods
Patients with cytologically-detected glandular lesions identified in our pathology records from 1995 to 2020 were included in this study.
Results
Of the 683,197 Pap tests performed, 985 (0.144%) exhibited glandular abnormalities, 657 of which had tissue follow-up available. One hundred eighty-eight cases were cytologically interpreted as adenocarcinoma and histologically diagnosed as malignant tumors of various origins. There were 213 cases reported as atypical glandular cells (AGC) and nine cases as adenocarcinoma in cytology, yet they were found to be benign in follow-up histology. In addition, 48 cases diagnosed with AGC and six with adenocarcinoma cytology were found to have cervical squamous lesions in follow-up histology, including four squamous cell carcinomas. Among the cytomorphological features examined, nuclear membrane irregularity, three-dimensional clusters, single-cell pattern, and presence of mitoses were associated with malignant histology in follow-up.
Conclusions
This study showed our institute's experience detecting glandular abnormalities in cervical cytology over a 25-year period, revealing the difficulty of this task. Nonetheless, the present study indicates that several cytological findings such as membrane irregularity, three-dimensional clusters, single-cell pattern, and evidence of proliferation could help distinguishing malignancy from a benign lesion.
The introduction of cervical screening has reduced the numbers of new cases and deaths caused by cervical cancer; this success has mainly been attributed to the Papanicolaou (Pap) test, which is a main cervical screening modality used worldwide [1,2]. For instance, under the Korean cervical cancer screening program and between the years 1999 and 2017, new cervical cancer cases and deaths dropped significantly [3]. However, despite its huge success, the Pap test is by no means perfect. According to the 2020 GLOBOCAN estimates, cervical cancer still ranked as the fourth most common malignancy both in incidence (6.5%) and mortality (7.7%) in women globally [4].
Pap test is primarily considered a screening test for squamous cancer and its precursors, exhibiting high specificity for this task [5], while it is often used either as a stand-alone test or in association with human papillomavirus testing, as a part of various screening algorithms [6-9]. However, its diagnostic accuracy regarding glandular cancers and their precursors is considered suboptimal; reasons include the relative rarity of glandular abnormalities in Pap tests, compared to their squamous counterparts, the difficulty sampling them, also the pathologists' lack of experience with their cytomorphologic criteria and the reported interobserver variability [10-12]. "Atypical glandular cells" (AGC) is an uncommon cytologic interpretation used to interpret cases with cytomorphologic glandular changes exceeding reactive atypia, yet falling short to be reported as in situ or invasive carcinomas [13-15].
Squamous cell carcinoma and adenocarcinoma (ADC) are the first and second most common histologic types of cervical cancer, respectively [16,17]. Notably, whereas the incidence of squamous cell carcinoma has decreased significantly the last years mainly due to the successful cervical screening programs implemented, ADC has not followed a similar trend [18-22]. Adenocarcinomas often behave more aggressively, while they have been associated with worse prognosis and higher metastasis rates, also with worse response to therapy compared to squamous cervical cancers [16,17,23,24]. Consequently, the early detection of cervical ADC or its precursors would directly affect patients' quality of life and survival rates. However, this task is challenging in both conventional and liquid-based cytology (LBC) [11,25]. Due to the reported suboptimal diagnostic performance of Pap tests for the reasons mentioned before, more data are needed regarding cytologically-detected glandular abnormalities, in order to enhance our ability to detect them accurately.
In this single-center study, we evaluated the current status, diagnostic distribution, cytohistological association, and pitfalls of glandular abnormalities in cervical cytology. Additionally, we also evaluated selected cytomorphologic findings in Pap tests with glandular abnormalities associated with the presence of malignancy in subsequent follow-up biopsies.
Fig. 1.
Distribution of glandular abnormalities in the Papanicolaou tests interpreted in our institute over a 25-year period. ADC, adenocarcinoma; AGC-EC, atypical endocervical cells; AGC-EM, atypical endometrial cells; AGC-NOS, atypical glandular cells not otherwise specified; AGC-FN, atypical glandular cells favor neoplastic.
Fig. 2.
Cytomorphologic features of histologically-confirmed malignant cases. (A) Atypical glandular cells not otherwise specified (AGC-NOS). Groups of cells showing nuclear membrane irregularity. Follow-up histology revealed adenocarcinoma in situ (Papanicolaou [Pap] stain). (B) AGC-NOS. Some scattered atypical cells showing single-cell pattern. Follow-up histology revealed adenocarcinoma (Pap stain). (C) AGC-NOS. Cell clusters showing three-dimensional architecture with sharper, smoother margins. Follow-up revealed adenocarcinoma (Pap stain). (D) Atypical glandular cells favor neoplastic. Sheet of crowded cells with mitotic activity. Histological diagnosis was adenocarcinoma (Pap stain).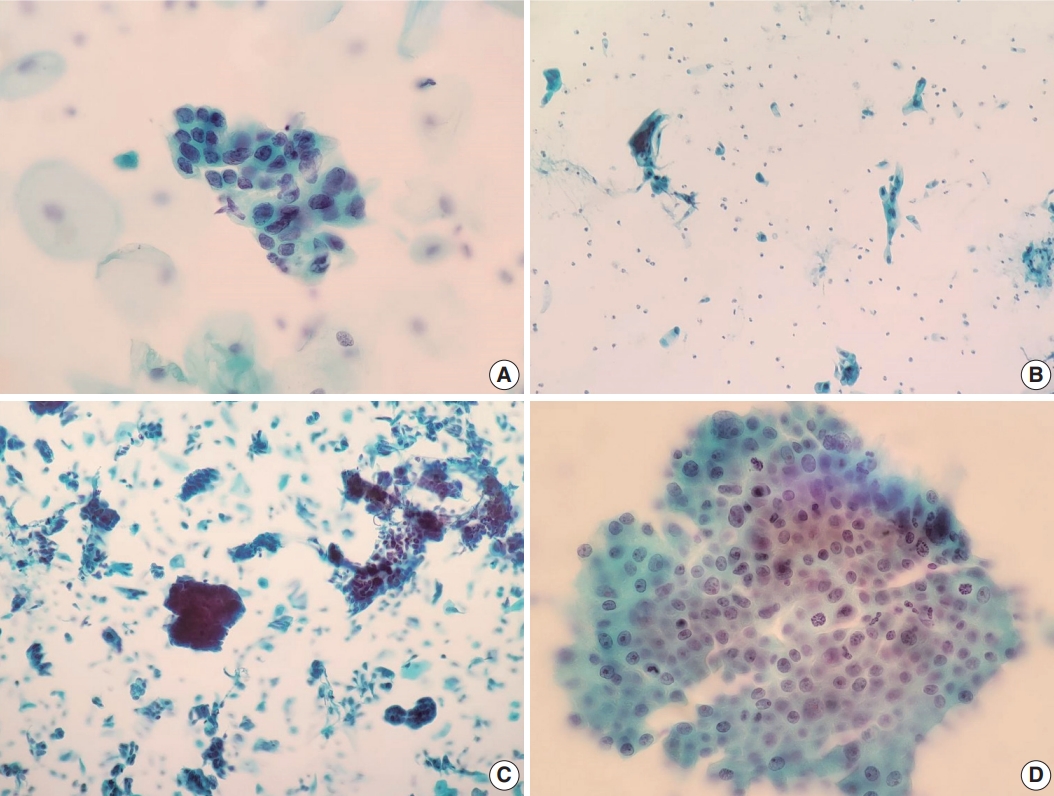 Table 1.
Subclassification of 657 Pap test cases with glandular abnormalities and available follow-up histology
Histopathologic result
Pap test result

---

AGC-NOS
AGC-EC
AGC-EM
AGC-FN
ADC
Benign
197
9
3
4
9
Endometrial lesion
 Endometrioid adenocarcinoma
68
1
5
6
34
 Serous adenocarcinoma
7
-
-
-
15
 Clear cell carcinoma
4
-
-
-
3
 Adenosquamous carcinoma
2
 Carcinosarcoma
5
-
-
-
3
 EM other malignant
3
-
-
-
-
 EM hyperplasia
5
-
1
-
-
Cervical squamous lesion
 LSIL
21
-
-
-
2
 HSIL
22
1
-
-
4
 Squamous cell carcinoma
4
-
-
-
-
Cervical glandular lesion
 Adenocarcinoma in situ
13
-
-
-
3
 Adenocarcinoma
33
-
-
7
83
 Adenosquamous carcinoma
-
-
-
1
6
Cervical other malignant
2
-
-
-
3
Ovarian lesion
 Serous adenocarcinoma
9
-
-
-
12
 Mucinous adenocarcinoma
-
-
-
-
1
 Clear cell carcinoma
-
-
-
-
2
 Endometrioid adenocarcinoma
1
-
-
-
-
 Ovary other malignant
1
1
-
-
1
Vaginal lesion
 Poorly differentiated carcinoma
1
-
-
-
1
Metastatic tumor
5
-
-
2
22
Other
2
-
-
1
-
TIFD, unknown
6
-
-
-
-
Total
409
12
9
21
206
Table 2.
Comparison of cytomorphological features between Pap test cases exhibiting atypical glandular cells
Cytomorphological feature
Histologic diagnosis

---

p-valuea
Benign (n = 51)
ADC/AIS (n = 23)
Architectural features
 Overlapping
.058
  Present
30
18
  Absent
21
5
 Single-cell pattern
< .001
  Present
1
8
  Absent
50
15
 Three-dimensional clusters
< .001
  Present
0
8
  Absent
51
15
Nuclear features
 Increased N/C ratio
.434
  Present
50
22
  Absent
1
1
 Hyperchromasia
.233
  Present
39
18
  Absent
12
5
 Membrane irregularity
.012
  Present
18
15
  Absent
33
8
 Prominent nucleoli
.124
  Present
16
10
  Absent
35
13
 Mitoses
.009
  0/HPF
49
17
  > 1/HPF
2
6