Abstract
The 5th edition of the World Health Organization (WHO) Classification of Female Genital Tumors was published in 2020. Although the classification of ovarian and fallopian tube neoplasms is largely unchanged from the prior (4th) edition, this newsletter compiles the most important refinements in these organ sites, including serous and non-serous epithelial tumors, and sex cord-stromal tumors.
SEROUS NEOPLASMS

• The 4th edition divided serous carcinoma into low grade (LGSC) and high grade (HGSC) variants.
• LGSC and HGSC are best considered two fundamentally different tumors based on their distinct biology, rather than variants of the same neoplasm.
• Nearly all LGSCs arise in a background of ovarian benign or borderline serous tumors.
• Most HGSCs are believed to arise from a precursor lesion, STIC (serous tubal intraepithelial carcinoma), in the tubal fimbriae.
• New criteria for primary site assignment in HGSC include:

- Fallopian tube: STIC present, or mucosal HGSC present, or part or all of the fallopian tube is inseparable from tubo-ovarian mass.

- Ovary: both fallopian tubes are separate from ovarian mass, and no STIC or mucosal HGSC present in either fallopian tube.

- Tubo-ovarian: fallopian tubes and ovaries are unavailable for complete examination, and pathologic findings are consistent with extrauterine HGSC.

- Peritoneal (exceedingly rare): both fallopian tubes and ovaries are fully examined using a SEE-FIM (Sectioning and Extensively Examining the FIMbriated end) protocol, and no gross or microscopic evidence of STIC or HGSC present in either fallopian tube or ovary.

- These criteria classify approximately 80% of HGSCs as primary tubal.

• Serous borderline tumor is the sole recommended term:

- Obsolete terminology no longer recommended includes atypical proliferative serous tumor, serous tumor of low malignant potential, semimalignant serous tumor and non-invasive LGSC / micropapillary serous borderline tumor (the latter no longer considered definitionally synonymous with non-invasive LGSC).
NON-SEROUS EPITHELIAL TUMORS

• The following terminology is no longer recommended:
SEROMUCINOUS CARCINOMA

• Previously defined as a carcinoma composed predominantly of serous and endocervical-type mucinous epithelium, often with foci showing clear cells, endometrioid or squamous differentiation.
• Now considered a subtype of endometrioid adenocarcinoma with mucinous differentiation (Fig. 1).
NEW VARIANTS OF EPITHELIAL TUMORS

• Mesonephric-like adenocarcinoma:
• Dedifferentiated carcinoma:
• Carcinosarcoma:
• Mixed carcinoma:
ANCILLARY TESTING

• Aberrant p53 expression refers to three immunostaining patterns associated with TP53 mutation:
SEX CORD-STROMAL TUMORS

• Most (>90%) adult-type granulosa cell tumors (GCTs) exhibit somatic FOXL2 mutations.
• Sertoli-Leydig cell tumors (SLCTs) may harbor DICER1 or FOXL2 mutations and are now classified into three molecular subtypes:
• Occur in younger patients and induce androgenic symptoms.
• Moderately or poorly differentiated with retiform or heterologous elements (the latter two predict DICER1 mutations) (Fig. 4).
• Occur in postmenopausal patients and induce estrogenic symptoms.
• Moderately or poorly differentiated lacking retiform or heterologous elements.
• Reported in 0-22% of cases.
• FOXL2 and DICER1 mutations are mutually exclusive.
• Occur in patients with intermediate age.
• Well-differentiated lacking retiform or heterologous elements.
• Microcystic stromal tumors exhibit CTNNB1 or, less frequently, APC mutations and may represent an extracolonic manifestation of familial adenomatous polyposis.
• Small cell carcinomas of hypercalcemic type exhibit deleterious germline or somatic mutations in SMARCA4, part of the SWI/SNF complex, resulting in loss of SMARCA4 protein expression.
• Gynandroblastoma has been reintroduced (Fig. 5).
Meet the Authors

Dr. Turashvili has been part of the Pathology Outlines editorial board since 2020. She is originally from Georgia and pursued her pathology training in Canada and USA. She is currently affiliated with Mount Sinai Hospital and the University of Toronto as a gynecologic and breast pathologist and Assistant Professor.
Dr. Lastra has been part of the Pathology Outlines editorial board since 2020. He is currently an Associate Professor of pathology at the University of Chicago Medical Center, where he also serves as the gynecologic pathology fellowship program director.
Fig. 2.
Dedifferentiated carcinoma composed of undifferentiated carcinoma and low-grade endometrioid adenocarcinoma.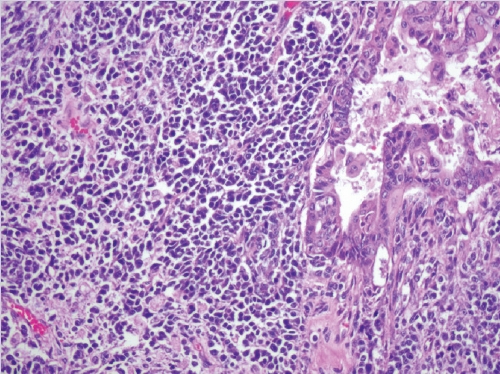 Fig. 4.
Moderately differentiated Sertoli-Leydig cell tumor with heterologous elements (intestinal-type glands) and somatic DICER1 mutation.