Fig. 1
Radiologic findings. Enhanced computed tomography reveals a mildly enhanced mass (arrow) in the anterior superficial lobe of the right parotid gland. (A) It is separated from the main parotid gland and could be an accessory parotid gland tumor or lymphadenopathy. (B) On ultrasonography, an approximately 1.2-cm large, cystic, solid nodule is noted in the right cheek area.

Fig. 2
Gross findings and histopathology. (A) Gross findings reveal a tiny multicystic nodule (0.7 cm). (B) Microscopically, the tumor consists of multiple cysts with partly solid ductal epithelial proliferation. Many superficial cells contain cytoplasmic apocrine-type microvacuoles that are periodic acid-Schiff-positive/diastase-resistant (C) and mucicarmine-positive (D). (E) S-100 protein is diffusely expressed in the tumor cells. (F) p63 immunostaining demonstrates the presence of myoepithelial cells and absence of p63 in the intraductal proliferating tumor cells.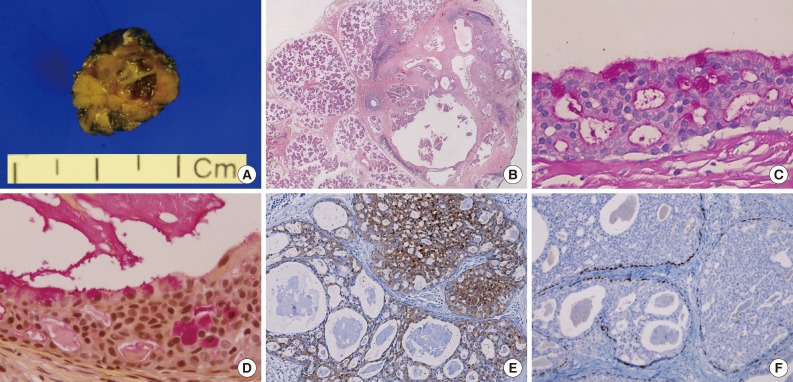 Fig. 3
Cytomorphological findings and histological correlation. Papanicolaou staining of a smear reveals many sheets and clusters of ductal epithelial cells with irregular overlapping (A) which might be aspirated from solid areas of the tumor (B). Tight intercellular connections with vague cribriform arrangement (C), correlates with the histologic component of the solid area resembling atypical ductal hyperplasia and low-grade ductal carcinoma in situ of the breast (D). (E, F) The pseudopapillary architecture may be a micropapillary projection of the lining epithelium of cystic area. (G, H) Almost all tumor cells are bland-looking with low nuclear/cytoplasmic ratios, with inconspicuous or one small nucleolus and relatively fine nuclear chromatin. (I, J) Only small foci of tumor cells have mild cytologic atypia with minimal size variation and prominent nucleoli.